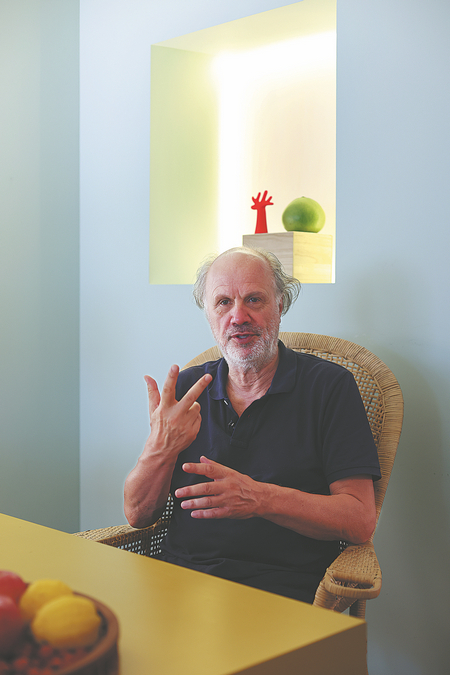 Similar projects
Over the past decade, Shanghai has launched various undertakings of a nature similar to the lane project, with the makeover of Yuyuan Road in Changning district being one of the most notable.
The street, first built in 1911, is being seen as an example of urban renewal worth emulating because of how the project developer CREATER has managed to strike a balance between the introduction of new, modern businesses and the preservation of historical buildings by changing their functions.
Li Yongjie, the company chairman, recalls that urban renewal in mid-1990s Shanghai was still at a "very rough stage" and it was only around 2010 when the city hosted the World Expo that the process became more organized. The company participated in the planning of Yuyuan Road's renewal project in 2014, and Li proposed introducing art, creative and cultural industries to the area.
"Simply improving the facade of the historical neighborhood was not enough," he says. "With the increase of incomes, the demand for cultural consumption will rise, too, and we needed to cater to this."
A series of restoration and functional upgrades were soon implemented. For example, a building that the Shanghai Medicine Staff College previously used for teaching purposes was transformed into an indoor market comprising cafes and bistros worthy of social media posts, and shops run by tailors and cobblers who once used the street for their trade. Art installations, more cafes and galleries began to sprout along the street, and the vibrant environment quickly drew entrepreneurs.
Among them is Ma Zhiqiang, who returned to China from Japan after living there for years to set up Whim Coffee two years ago.
"The cultural environment was the main reason I chose this location," says Ma. "When I was a child living in Shanghai, this place was not famous at all, but the renovation of the street has been done well and this has created a good business environment. Business has been brisk despite the outbreak of COVID-19."