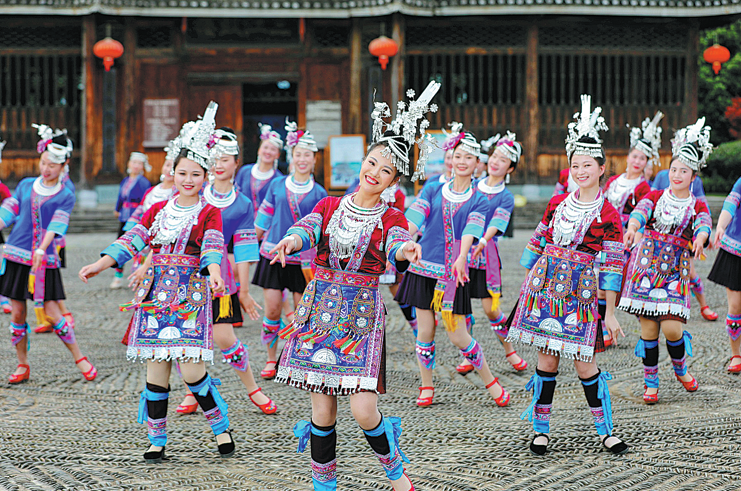 Pan Ming, general manager of the Guangxi Tourism Development Group, which runs the major Sanjiang scenic area where the ethnic group's Grand Songs are performed and promoted, said nearly 1 billion yuan ($150 million) has been invested in the county in recent years to help preserve and pass on the Dong intangible cultural heritage.
"Local ethnic aspects such as the Grand Song of the Dong are integrated with the cultural and tourism industry to continuously improve the visitor experience, create immersive song and dance programs, and enhance the attractiveness of Dong culture," Pan said.
US ethnomusicologist and Guangxi University for Nationalities music teacher Ben Linde said he first experienced the Grand Song "through the studies, performances and cultural heritage transmission efforts" of Guangxi Arts University's department of ethnic arts in Nanning.
"They do a great job teaching this important genre of folk music to college students from all corners of Guangxi. Obviously, a personal visit to Sanjiang to listen to this music in its most natural setting is a priority for my future field research," he said.
The Grand Song is "unlike any other folk songs I've heard anywhere in the world. Its charming main melody floats over the harmony part, creating a delightful and gentle 'rocking' experience for the ear. Combined with the group nature of performance, often strikingly polished, this folk music genre must be shared, protected and passed to future generations", Linde said.
"As long as people from Sanjiang are supportive, fusions and new presentations" of its Grand Song "are a great way to increase the spread and enjoyment of this great art form", he added.