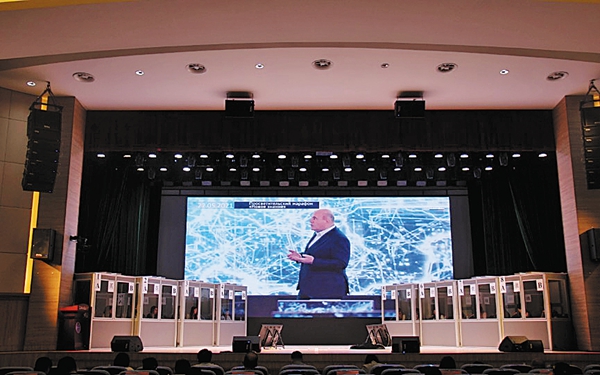 While machine translation powered by artificial intelligence still lags far behind human interpreters in many ways, smart applications, backed by AI, have been helping university students who major in interpretation to learn more effectively.
According to Zhang Ailing, dean of the Graduate Institute of Interpretation and Translation at Shanghai International Studies University, the use of such apps allows students to identify and learn from mistakes without having to be in the classroom.
Zhang made the remarks during a forum about language services in the age of AI that was recently held at the school.
Xu Qilu, who teaches conference interpretation at GIIT, adds that such apps cannot only correct obvious mistakes in pronunciation and grammar, but also determine if users have performed necessary requirements, such as making eye contact with their audience.
Experts note that current machine translation technology cannot be compared to human interpreters, mainly because the data quality is not good enough.
"The translation capability of machines comes from learning the massive data regarding language translation in public domains on the internet, but the quality of that data varies," says Zhang.
While some translation software can already achieve fairly high accuracy when it comes to repetitive and technical terms, it is immensely difficult for machines to be as accurate as humans, as the latter will always learn new phrases or expressions that might come into a language's common parlance earlier than a machine counterpart.
"What interpreters do is much more than just word-to-word translation. Rather, the viewpoint, tone and emotion of the speaker also need to be conveyed. The identity of the speaker and the composition of the audience must also be taken into consideration," she says.
A total of 119 foreign language majors at 26 Chinese universities gathered for the final of the Third Multilingual Relay Interpreting Contest hosted by SISU on July 4.Nine languages-Chinese, Arabic, French, German, Japanese, Korean, Russian, Spanish and English-were involved in the contest.
During the contest, participants interpreted a dialogue from a foreign language video played in real time into Chinese, while their schoolmates interpreted the Chinese into the specialist languages in which they are majoring.
Jiang Feng, Party secretary of SISU, says, "This simultaneous interpretation contest is a very meaningful event to help tell China's stories and is in line with China's growing international status."
According to experts, an increasing number of large-scale international conferences have been using Chinese as the relay language in simultaneous interpretation, a testimony of the rising influence of the language.