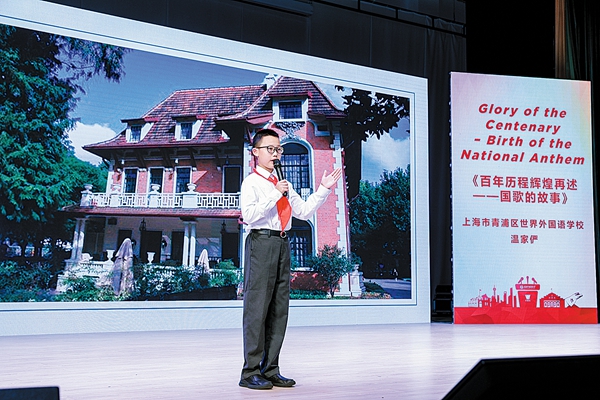 Contest sees students recount stories centered on the nation's development to demonstrate their proficiency in English, Zhou Wenting reports in Shanghai.
Winners of a contest recounted, in English, the historical narratives related to the Communist Party of China and the country's development, showing off their talent during an award ceremony on July 20.
The students employed the English language to describe what they see and feel in their daily life, reflecting how the country has thrived in recent decades under the leadership of the Party, which last month celebrated the centenary of its founding.
The contest was organized by the Shanghai Student Moral Education Development Center and Shanghai International Studies University, under the guidance of the Party committee of the Shanghai Education and Health Working Committee and the Shanghai Education Commission.
Organizers say the contest was intended to help youths in Shanghai, birthplace of the CPC, draw strength from the fighting spirit of the Party throughout its growth, cultivate a global vision while having full confidence in their own culture, and contribute their vitality and wisdom to national rejuvenation and a better future for mankind.
"The goal of foreign language education is not merely to cultivate talented people who master the language. On top of that, we aim to cultivate young people with excellent intercultural communication skills and profound knowledge in a certain field. They must also have the capability of shouldering important tasks in the new era," said Jiang Feng, Party secretary of SISU.
"Ultimately we hope the youngsters can avail of the power of languages to enhance the appeal of their speeches and eventually the discourse power of the country," he said.
The first round of the contest kicked off in May, and more than 3,600 students from primary school to university age participated and just dozens of them made it into the final.