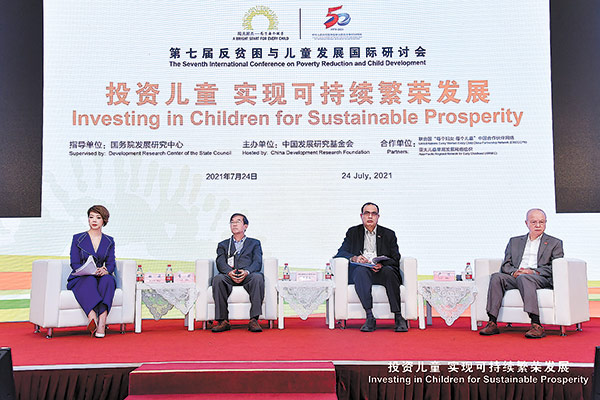 The Seventh International Conference on Poverty Reduction and Child Development took place in Beijing on July 24, hosted by China Development Research Foundation under the supervision of the Development Research Center of the State Council.
Themed as "investing in children for sustainable prosperity", the conference discussed issues pertaining to the sustainable development goals of the United Nations, child development, and the construction of public services and policy systems for children.
The conference was joined by around 300 representatives from governmental entities, academic institutions and NGOs from home and abroad, who shared their experience in supporting child education and development.
Li Xiaoyun, a professor at China Agricultural University, gave a speech via video call and showed to the audience the outlook of the once impoverished Hebian village in Mengla county, Yunnan province. He has been leading a team and working at the village for over six years, during which time the village has successfully shaken off absolute poverty.
"I came to this village to help alleviate poverty. We introduced to the village new industries that significantly increased the income of farmers. But these means of poverty alleviation do not involve the fundamental work that is needed to eradicate the intergenerational transmission of poverty," Li said.