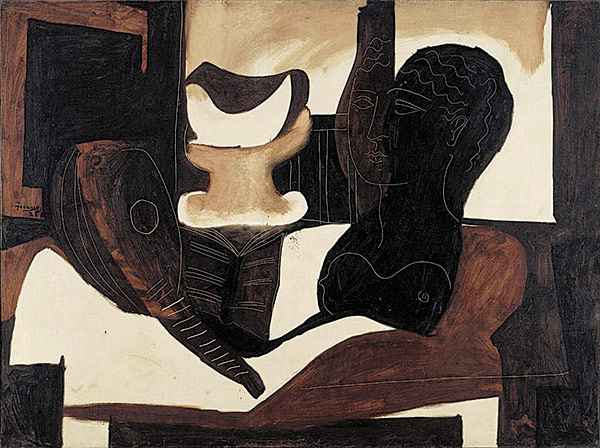 The Voice of Things, the second semi-permanent exhibition by Centre Pompidou, opened at the West Bund Museum on July 28 and will run through Feb 5, 2023.
The new exhibition is the second chapter of a 2019 cooperation pact between the West Bund Museum in Shanghai and Centre Pompidou in Paris.
The Voice of Things features more than 160 emblematic art pieces ranging from avant-garde works from the early 20th century that reflect the revolution in aesthetic norms to the most recent artistic creations that address contemporary issues in a globalized world.
According to the exhibition curator Bernard Blistene, who spoke via video conference at the opening, the exhibition is named after a collection of poems by French poet Francis Ponge (1899-1988) in which he described the beauty of banality and opened a new way of looking at things and bringing them to life.
The exhibition occupies two galleries on the second floor of the museum, where visitors are taken on a chronological tour through the works of artists such as Pablo Picasso, Fernand Leger, Marcel Duchamp, Man Ray and Jean Tinguely.
A video room in the first gallery presents a documentary on Picasso creating a sculpture named The Woman With a Key. In the short film by Luciano Emmer, a pioneering filmmaker and director of many art documentaries, Picasso is seen putting together objects to make up the body of the woman.
Picasso was one of the first artists to introduce real objects into his work, opening the door to a new way of making art. All his life he produced sculptures made entirely of found objects, according to the curator.
Visitors can experience different schools, periods and phases in modern art history through this exhibition, Blistene says.
"For me, the exhibition has brought to new light many everyday objects, and the artworks are impressive and striking," said Chen Liuming, a visitor at the preview.
"Regardless of how much you know about art history, you will be able to have great fun at the show."
The exhibition is a continuation of The Shape of Time, the inaugural exhibition at the West Bund Museum by Centre Pompidou, which started a year and a half ago.
"It's a great pity that I can't celebrate the occasion in Shanghai," Laurent Le Bon, the new president of Centre Pompidou, said via video conference at the opening.
"I hope my first business trip as the president of Centre Pompidou would take me to the West Bund Museum."
The exhibition marks a key stage in the partnership between the West Bund Museum and Centre Pompidou as it opens up a new vision for greater cooperation, he added.
If you go
The Voice of Things
10 am-5 pm, Tuesday to Sunday, last admission before 4 pm, July 28, 2021-Feb 5, 2023
West Bund Museum, 2600 Longteng Avenue, Xuhui district, Shanghai
021-3101-1011