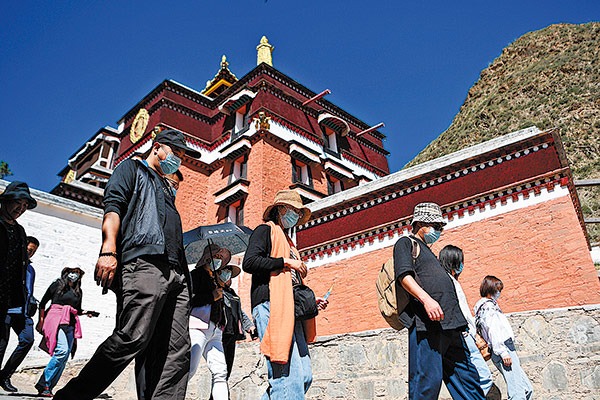 Family tours, especially those featuring educational elements, stood out, with relevant flight orders reaching about 60 percent via Trip.com, 8 percentage points higher when compared with the same period in 2019.
Educational tours increased over 650 percent year-on-year, with online searches for them more than doubling. Bookings for such excursions account for 68 percent of Tongcheng-Elong's family orders for the summer so far.
Parents' focus on education for their children is the reason for their popularity, says a family summer tours report from Qunar, a Beijing-based online travel agency.
Beijing, Shanghai, Xinjiang Uygur autonomous region, Gansu province's Dunhuang and Shaanxi province's capital Xi'an are among the most popular destinations for family travelers.
Group tours are smaller than before, catering more to the demands of travelers for services of better quality, while an increasing number of family travelers have opted for self-drive recreational and sport utility vehicles during their trips, says Li Qian, learning tour business director with Trip.com.
Tour suppliers have covered history, humanity, exploration, astronomy, science and themed camping sites, intended to entertain children aged between 4 and 16.
Space exploration tours in Xichang, Sichuan province, Yungang Grottoes history and art appreciation in Shanxi province, and national geography study in Shandong are very popular at the moment.
Overall spending on family tours rose 463 percent as compared with the 2020 summer, and average spending rose 84 percent, Trip.com shows.
Some high-end tours have been well received by the market.
The Beijing-based tourism website Qyer has invited experts from the Chinese Academy of Sciences and the Dunhuang Academy to guide young travelers during trips to China's Five-hundred-meter Aperture Spherical Radio Telescope (FAST) in Guizhou province or the Mogao Caves in Gansu.
Such educational tours are a fairly recent addition industry, and products of inconsistent quality have flooded the market.
However, as parents pay more attention to the diversity, individuality and quality of their children's travel experiences, Zhang Lu, a co-founder of Qyer believes that only services with the highest standards will survive in the long run.