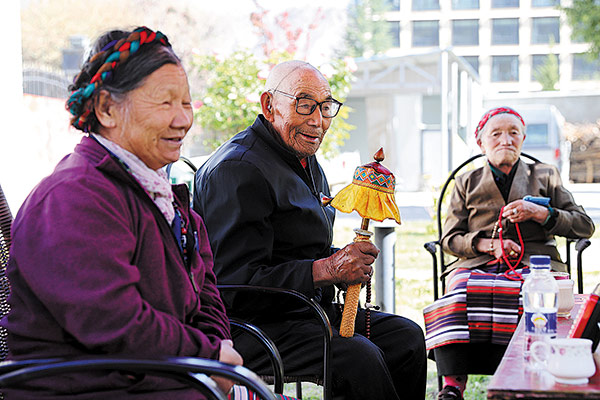 Holding an exquisite prayer wheel in his hand, Jampa Ngodrup, 86, joins other Tibetans in drinking traditional butter tea in a yard, basking in the sunshine. Inside a hall, four elderly men play a dice game.
It's a regular day in the life of Jampa Ngodrup and his wife, who have lived in a welfare institution run by the civil affairs bureau of Chengguan district, Lhasa, capital of Southwest China's Xizang autonomous region, for a decade. His daily routine includes offering fresh water to a Buddha statue in his room after breakfast and walking to the nearby White Pagoda for prayers.
"I used to be a farmer and had to work very hard. Now, I'm living a happy life here, being taken good care of, without any need to worry about food and clothing. I'd like to maintain the current status," says Jampa Ngodrup, who is childless.
He's in good health except for a minor eye problem.
Dorje, 50, another Tibetan resident there, who has no family, agrees. "My life is carefree. I spend my spare time worshipping at the pagoda or chatting with others and watching TV."
She can't do heavy work due to limb problems.
Built at an investment of 48.13 million yuan ($7.45 million), the facility, with a floor area of 7,373 square meters, opened in June 2011 to provide shelter for wubao elders free of charge.