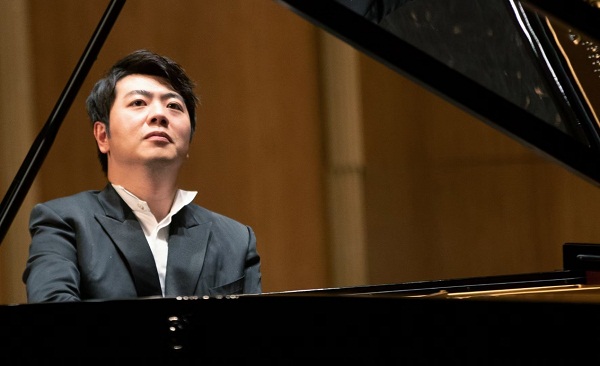 Even rain and an approaching typhoon couldn't stop ardent classical music fans from heading to the Wuxi Grand Theatre for a performance by renowned pianist Lang Lang on July 25, with the soloist treating the crowd to a thrilling recital of Bach's Goldberg Variations.
Consisting of 30 variations and an aria, the masterpiece -- composed some 270 years ago -- is widely regarded as one of the most ambitious and profound compositions ever crafted for the keyboard.
Lang acknowledged that he decided to take on the epic work after over 20 years of study, reflection and preparations due to its complexity, style and length.
"It's a 90-minute non-stop performance. And with those classical Baroque ornaments and variations, it's not easy for the audience to appreciate it," said the 39-year-old maestro. "I was worried I couldn't keep them seated for so long."
That concern was soon proved misplaced, as about 1,600 local classical music fans -- some with their children -- packed the theater despite the stormy weather outside. The only time they left their seats was to give a standing ovation at the end of a mind-blowing performance by their virtuoso idol.
"I'm a huge fan of Lang Lang and it was my first time to see him in person," said local resident Li Lingyan.
"Goldberg Variations are a tough nut to crack for any soloist. But he tackled it brilliantly with soft touches. It was a fantastic show tonight," Li added.
Similar turnouts were recorded in previous stops on Lang's recital tour. The jubilant performer attributed the success to the growing aesthetic taste and manners of Chinese audience.
"It doesn't matter if it's in big cities or in small towns. The audience still hears it through quietly and politely. It's something I couldn't have imagined 10 years ago," Lang said. "I'm astonished by the growing popularity and knowledge of classical music in China."
When it comes to Chinese classic music, Wuxi is a force that can't be overlooked. Much of that is to do with its flourishing erhu -- or two-stringed fiddle -- culture. The city in East China's Jiangsu province has developed an erhu-manufacturing industry over the course of five decades. Meicun town alone produces around 40,000 erhu each year, worth nearly 30 million yuan ($4.63 million).
The immortal erhu work, Moon Reflection over the Second Best Spring (Er Quan Ying Yue), was composed by local musician Hua Yanjun in the 1940s. And Lang, the son of an erhu player, feels it deeply.
"I love this tune totally. I would say it is the soul of Chinese folk music, as it perfectly shows the profound Chinese cultural elements," he said.
Inspired by traditional folk music like Er Quan Ying Yue, Lang has been at the forefront of moves to promote Chinese culture by mixing western and eastern instruments.
He released his first Chinese classical album Dragon Songs back in 2006, adapting a dozen folk tunes and short pieces written for Chinese instruments to the piano.
In recent years, Lang has teamed up with Chinese folk orchestras and individual musicians to introduce more classical Chinese music pieces on various stages, from festive galas to international events like the 2019 FIBA Basketball World Cup.
"I want to try something new every year and I think we have done it well," he said.
"Chinese folk music is obviously gaining ground worldwide."