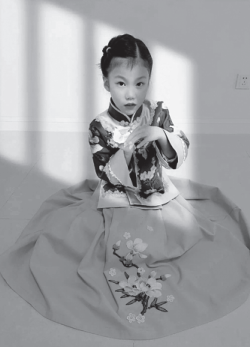 A Shanghai full-time mother has made more than 40 pieces of traditional costumes for her daughter over the past three years.
A resident of Jiaxiu community, Jiading district, Zhao Yonghui, who is in her early 40s, said that the idea of making traditional costumes was born three years ago when her daughter required one for a kindergarten event.
Unsatisfied with the clothes available online, Zhao, who previously studied fine arts and ran a customized clothing store in Jinxian road, came up with the idea of designing and making the costume herself.
"After having my daughter, I closed the clothing store to take care of her because I didn't want to miss her growing-up years," Zhao said.
"My daughter and her classmates liked the first homemade costume very much and other children even urged their mothers to learn how to make one for them. My daughter was also immensely proud after receiving praise for wearing the clothes made by her mum," said Zhao.
Encouraged by that incident, Zhao bought books, visited a clothing museum, watch video tutorials, and even consulted professional tailors so that she could make more professional-looking costumes.
Today, she can craft nearly any type of Chinese traditional costume, including Hanfu dresses, cheongsams, and a coat skirt from the late Qing Dynasty (1644-1911).
According to Zhao, it is more expensive for her to be making costumes herself-the cost is equivalent to the price of two to three pieces on e-commerce platform Taobao. However, her creations are far superior in quality and style.
Depending on the style and material used, her costumes can be finished in as short as half a day. The more elaborate pieces might take several days.
According to Zhao, she starts to make costumes every day before 8 am after taking her daughter to school. Work continues in the afternoons, sometimes with her child next to her work bench. She occasionally works till midnight if there is a project that she is particularly excited about.
Her talent has also attracted people to learn costume-making from her. A WeChat group set up for this purpose currently has about 200 people.
She holds up to five workshops per month, with each attended by as many as 10 students. Most of her students are mothers and their children.
"Teaching others makes me as happy as making these costumes. Other mothers also feel that making costumes is a good way to decompress and relax," said Zhao, who is intending to conduct more workshops to spread the joy of this craft.