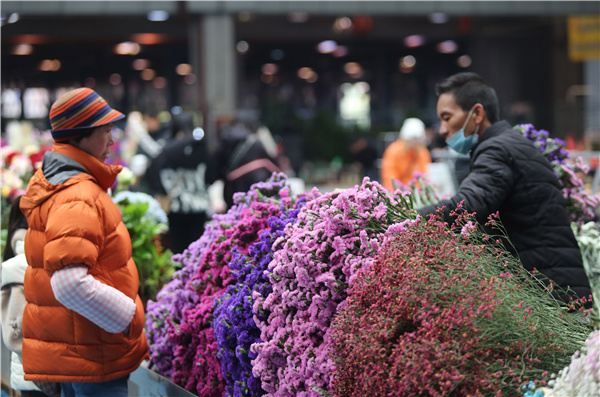 Demand for top-end exquisite bouquets is soaring in China as young Chinese consumers in the high-income bracket are increasingly buying flowers to brighten their day-to-day life, spawning new trends like florals, e-commerce and flower vending machines.
No longer are consumers content with going on a spending binge only during holidays and occasions involving rituals.
The market scale of startups whose business is flower sales online is expected to grow steadily, fueled by young consumers pursuing quality lifestyles characterized by evolving tastes, experts said.
In the past, flower consumption in China mainly came from ritual-marked occasions, cultural events, traditions or customs spanning birth to death and afterlife-birthdays, courtship, weddings, visits to patients or those convalescing, funerals and death anniversaries.
Besides, flower purchases were often made during holidays like Valentine's Day and Spring Festival. Most flowers were sold in big bouquets. The main flower varieties included roses and carnations, according to online industry information network Chyxx.
"Now, some flower varieties that are less common and flowers wrapped in small baskets have become more popular, and the sector is seeing more specific demand for exquisite flowers from sophisticated consumers," said Zheng Wanying, an analyst of the LeadLeo Research Institute, a market research provider.
"Earlier, most consumers used to reserve their flowers a few days in advance. Now, however, more people tend to order flowers online and hope the products can arrive on the same day. Consumers from cities in South China prefer such services more than those who live in North China. Thus, the flower business has higher requirements for the development of a mature supply chain," she said.
Founded in 2015, e-commerce florist Reflower has sold more than 500 million flowers so far. The company cooperated with several flower planting bases globally, like those in the Netherlands and Colombia, and it provides a wide variety of flowers and green plants.
With its self-owned cold storage and cold chain transportation, it takes about 24 hours to 48 hours to transport flowers from the planting bases to consumers. Besides, it stores different varieties of flowers in different environments that are most suitable for them, the company said.
In addition, the flower retailer frequently offers complimentary derivative products such as vases, scissors and flower pots that mail along with flowers, and the colors of those products often match the flowers that consumers book.
"Despite online florists having gained a large number of customers with their lower prices compared with brick-and-mortar stores, many consumers still regard offline shopping important to buy perishable goods like flowers," Zheng said.
Thus, flower retailers online are cooperating with cafes and exhibition halls to launch some offline experience stores to enhance the presence of flowers in daily life and further grow their business.
Flowerplus, a Shanghai-based e-commerce flower platform, has opened life experience stores that cooperated with Shanghai-based snack food chain Laiyifen, as well as experience stores that are in collaboration with Scandinavian homeware and stationery brand Hay.
Yet, compared with offline shopping, the potential problems that may occur during the transportation of flowers still remain an issue.
"Sometimes, the deliveries are not in time, and consumers may complain the flowers they received are not fresh enough. To further improve the means to store flowers and shorten delivery time remains the biggest challenge of the e-commerce flower retailing sector," Zheng of LeadLeo said.
Meanwhile, flower vending machines are becoming popular and a common sight at certain urban spots like malls, subway stations and residential communities.
Megarden, a flower vending machine retailer, has launched a large number of vending machines in cities nationwide, including Beijing and Guangzhou, Guangdong province.
The machines look bigger than traditional vending machines of beverages. Each compartment in a machine is filled with different small bouquets of flowers. Typically, a bouquet may carry a price tag of around 10 yuan ($1.54).
By scanning the flower QR code on the vending machine, a buyer can complete the transaction with mobile payments on his or her smartphone or other similar device.
"Compared with flower shops, flower vending machines can save more costs in labor and store rentals, and thus flowers sold via machines are usually cheaper," said Mai Yong'an, brand manager of Megarden.
Megarden said it will install more vending machines at more subway stations on different lines in various cities, to make the most of the anticipated surge in demand for flowers across China.
Megarden said it usually refills flower vending machines every alternate day.
For the uninitiated, here is a layperson's guide to flower use in China: carnations are usually gifted to moms; roses are presented to one's beloved on Valentine's Day as well as Qixi Festival (Chinese Valentine's Day); chrysanthemums are used during funerals and to pay respects to the departed during anniversaries.
Potted plants or flowers are suitable as gifts for new homebuyers. People tend to offer mildly fragrant flowers to the convalescing. To offer good wishes, greetings or congratulations at the time of launch of new stores or businesses, red peonies or Chinese roses are preferred. Needless to say, all these customs have spawned a thriving floral business in China.