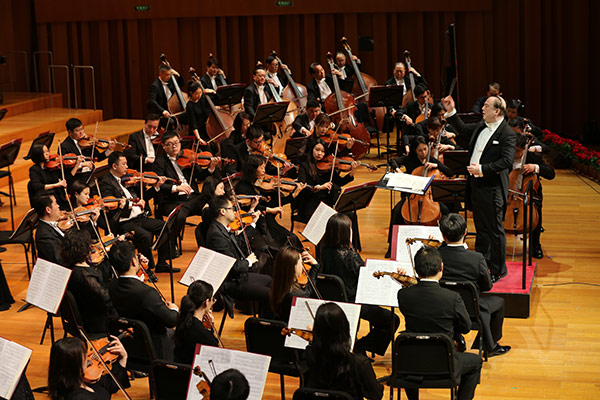 Feng says the new interpretation will be faithful to the original creation, musically and lyrically, but the digital art department of the Shanghai Conservatory of Music will create new visual presentations and new stage settings.
The Shanghai Symphony Orchestra is currently touring six Chinese cities with three new commissioned music pieces, The Forefathers, by Yang Fan; Let's Go to the Sea and Look up at the Starry Sky, by Hao Weiya; and Ode to China, by Yu Yang. The tour, which kicked off on April 15 and will run until May 6, is a special part of the Shanghai Spring Music Festival.
The orchestra started its tour in Beijing, where the concert was conducted by Yu Feng, director of the Central Conservatory of Music. The plan is to take the three new pieces, alongside a series of red-themed repertoire, to Hangzhou, Zhejiang province; Ganzhou, Jiangxi province; Changsha, Hunan province; Wuhan, Hubei province; and eventually Yan'an, Shaanxi province, an important center for the Chinese revolution.
In June, upon returning to Shanghai, the orchestra will perform at its home concert hall, when young conductors will take the baton. According to Zhou Ping, director of Shanghai Symphony Orchestra, the young musicians have pledged to "carry on with the idealistic faith and patriotic passion that is reflected in the music creation".
The festival will present two dance productions-a gala performance featuring emerging choreographers' creations, as well as The Burning Youth, a new dance theater production by Shanghai Ballet. The latter tells a story about a group of young people from different backgrounds meeting in Yan'an in the 1930s before becoming revolutionary soldiers.
According to Xin Lili, head of Shanghai Ballet, the new production will feature innovative stage designs and present a highly aesthetic production of the revolutionary theme.
The Burning Youth will be presented at the Shanghai Grand Theater from May 7 to 8.