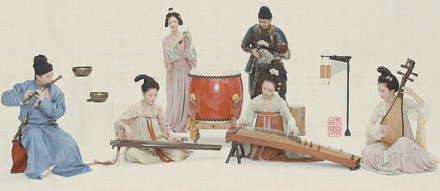 Stepping into Zi De Guqin Studio in Shanghai's Pudong, one finds skateboards resting against the wall on which ancient Chinese music instruments are hung.
This scene says everything there is to say about the personality of the group that practices here.
Zi De Guqin Studio has more than half a million subscribers on YouTube and 620,000 followers on Bilibili, a leading video-sharing website in China.
Zi De's creations, most of which are music videos featuring artists in ancient Chinese costumes performing traditional Chinese instruments, have won millions of views on both Chinese and international websites.
Zi De's live concerts have also been widely successful. Last October, the group gave a concert at an outdoor festival hosted by Shanghai Concert Hall. In April, Zi De will tour southern China, with four concerts scheduled in Xiamen and Fuzhou in Fujian province, and Guangzhou and Foshan in Guangdong province.
From May 21 to 23, the group will be the artists in residence at a mini festival in Shanghai Concert Hall. During these three days, three concerts, as well as lectures, workshops and other educational events, will be held.
"All the tickets for the live concerts are sold out," says Zhu Liyue, head of the group.
While the 48-year-old is the leader and manager of the music group, 36-year-old Tang Bin is the central artist of Zi De, who is responsible for music compilation and arrangement, and video shooting.
Tang fell in love with the guqin (Chinese zither) and traditional Chinese music as a teenager. As a young man who grew up enjoying contemporary pop culture, including cartoons from Japan, soap operas from home and abroad, as well as skateboarding, Tang was eager to play something new on the ancient instrument with seven strings on a sound box.
"If it were a human, the guqin would have had a weakened heart after 3,000 years of life," Zhu says.
"What we want is to see whether we can create something new with it, experiment with new ways to play it and give it a new lease on life in the contemporary age."
Tang has used the guqin to perform the theme music from the popular TV series, Games of Thrones, and the theme song of the Japanese cartoon series, Doraemon, and translated a series of popular hits to guqin.
He has also played and composed musical pieces for the electric guqin and paired its sounds with such instruments as African drums and the hang, a new percussion instrument invented in Europe in 2000. Tang even tried playing the guqin with the bow of the cello.
"We have inherited the instrument from previous artists, and we have to develop it," Tang says. "The guqin has for thousands of years been widely recognized as a refined instrument, and I want to breathe some fresh air into it so that young people can resonate with its music."
Tang says that he started to think about the visual presentation of music when he studied advertising in college. The first question he had was what he should wear while playing. A special interest group for ancient Chinese culture, which is dedicated to the restoration of ancient Chinese clothing, offered help.
With the assistance of these people, who often help to make and restore clothing exhibits for museums, Zi De's musicians donned ancient garments, head wraps and makeup for their performances.
Tang also tuned the color tone of the video until it looked like aged rice paper or silk so that the imagery resembled ancient Chinese paintings.