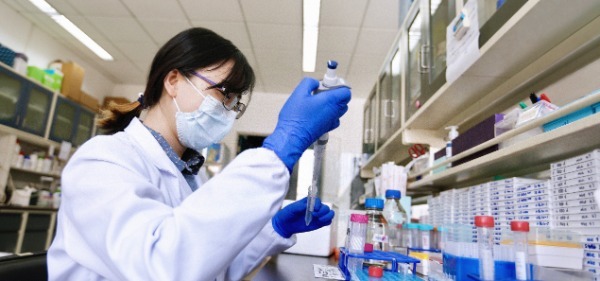 Instead of having a reunion dinner with her family, Shan Sisi celebrated Lunar New Year's Eve on Feb 11 with 13 of her team members in a laboratory. They ordered takeaway food for the night.
It was the second consecutive year that Shan, a 28-year-old doctoral student at Tsinghua University's School of Medicine, spent Spring Festival in the facility. During the festival in early 2020, the lab was almost empty as she did experiments to find out more about the new coronavirus. But this time, she was not alone.
Professor Zhang Linqi, from the university's School of Medicine, has been leading a team with Shan and others, working around the clock to find antibodies against COVID-19 since the outbreak in Wuhan, capital of Hubei province. The team achieved outcomes-they have successfully isolated several antibodies that might help to find potential treatments and have developed a vaccine that is waiting for a clinical trial.
Since Jan 20 last year, Shan has been spending her time in the lab studying COVID-19 and she hasn't taken a day off for around 200 days.
The publicity department of the Communist Party of China and the Ministry of Education recently announced a list of "the most beautiful college students" in 2020. Shan was among the top 10. She was also named Tsinghua's "student of the year" for 2020.