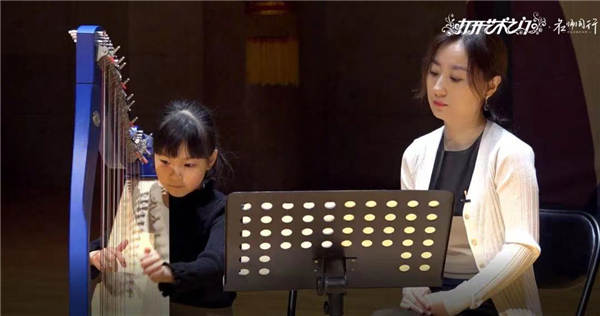 Festival's online gambit pays off as more students tune in to master musical instruments like pipa and the harp, Chen Nan reports.
Having established itself, in 1995, as one of Beijing's biggest summer arts festivals for children, the annual Gateway to Music, initiated and organized by the Forbidden City Concert Hall, opened its first online courses last summer amid the coronavirus pandemic.
After receiving a warm response from both parents and children, the organizers decided to launch a winter camp offering musical training online for children and adults.
Starting from the end of February, two veteran musicians: Zhang Hongyan who plays the pipa-a Chinese lute with four strings-and harpist Wang Guan, will give a series of online classes to students with or without a musical background.
"The winter camp will last until early summer. When the pandemic is under control, these students will be invited to perform live together at the venue," says Xu Jian, the general manager of the Forbidden City Concert Hall, adding that more artists will join in the winter camp to introduce different musical instruments.
On Feb 20, Zhang sat among pipa students, ranging in age from primary school students to teenagers, listening to their performances and giving instructions. The two-hour lesson was recorded at the Forbidden City Concert Hall and will be played online, to be shared by more students.
"When you pluck the strings, you should use the strength in your wrist. It will keep the sounds clean and neat," Zhang says to Sun Jinxuan, 10, who played Yi Ethnic Dance, composed by Wang Huiran in 1965 for the pipa. "It's also important to listen to yourself while playing the instrument."
After listening to students, Ma Chunxiao and Gui Jiayue, both 10, play a piece adapted from a children's song, titled Happy New Year, Zhang says: "it's a great way to learn music with a friend. You both inspire and progress with each other, which is fun".
In 2011, Zhang, who teaches at the Central Conservatory of Music in Beijing, launched a summer camp for the pipa as part of the annual Gateway to Music festival. The camp attracts about 200 students of different ages.
"I am very proud and happy to see that many young Chinese people love to play a musical instrument which is more than 2,000 years old. Art education is a key aspect of what we do as professional musicians and educators," says Zhang, adding that, when the Forbidden City Concert Hall invited her to launch the pipa training summer camp, it was the first program at the festival dedicated to a traditional Chinese instrument.
"Last summer, we tried for the first time to give online courses. It posed great challenges to us since usually music training needs teachers and students to meet in person," recalls Zhang. "We re-arranged our teaching materials for students with or without pipa-playing experience and we gradually figured out ways to effectively communicate with the students through the internet."