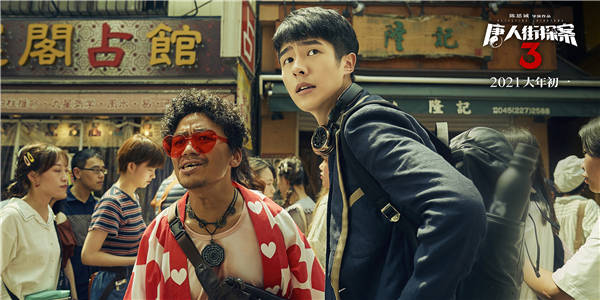 As the new Detective Chinatown movie proves to be a box-office bonanza, there is hope that a new Chinese cinematic IP is emerging to rival that of successful Hollywood franchises, Xing Wen reports.
With a stunning 10-day box-office haul surpassing 4 billion yuan ($619.2 million), the long-awaited Detective Chinatown 3, directed by former actor Chen Sicheng, has become a hot topic among moviegoers since Spring Festival.
The franchise follows the adventures of a detective duo comprising an uncle and his nephew, played by actors Wang Baoqiang and Liu Haoran, respectively, as they travel the world looking to solve a series of mysteries, from Bangkok in the first film to New York in the second installment and now Tokyo.
The newly released third chapter sees the pair being invited to try and solve a tricky case, in which murder is committed in a locked room, despite several witnesses supposedly watching the door of the room from the outside. The suspect and the victim are both heads of separate Japanese gangs. As the detectives probe more into the case to figure out who the culprit actually is, an unexpected tale about the tragic lives of war orphans and their offspring unfolds.
"The movie features anti-war sentiment," Chen, the director, says in a promotional video for the film.
He notes that although it's been a long time since the War of Resistance Against Japanese Aggression (1931-45), what it left behind still affects the lives of many people.
"I just want to show the long-term, harmful impact of wars on us as people," he says.
A symposium was held recently to gather scholars, film experts and critics to comment on this latest installment in the series.
Wu Yajun, director of the department of film and TV art at the Central Academy of Drama, said at the event that the movie tries to cater to the mass-market, as a variety of age groups will see in it cultural elements with which they are familiar.