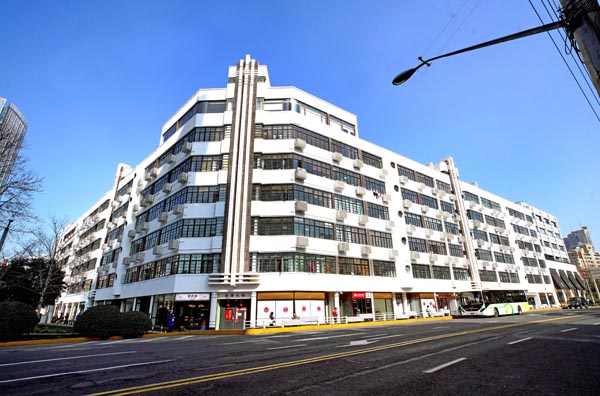 Formerly a beacon of luxury and sophistication, an art deco apartment block in Shanghai is now undergoing renovations as part of the city's urban renewal efforts, Zhang Kun reports.
Located at the junction of Huaihai Middle Road and Changshu Road in the former French Concession, the building widely considered to be one of the earliest luxury icons in Shanghai is currently undergoing a facelift.
Designed by renowned Chinese architect Huang Yuanji, Empire Mansions was an upscale locale that only the affluent could afford to live in when it was first built in 1934.
In the 1980s, the six-story art deco building went through its first major renovation, with new stories added to give it a more imposing presence.
In 1994, it became home to Maison Mode, which was believed to be perhaps the only place in the city that sold luxury products in the 1990s.
For many of the city's residents, the building was a beacon of inspiration for a better life.
"Empire Mansions used to represent my ultimate dream life when I was a teenager," recalls Shanghai resident Zhang Hong.
"I would stare at the beautiful women in high heels and trendy dresses walking past its dark iron gates. I couldn't help but think that they worked in big international companies and made a lot of money, because you needed to be quite well-off to afford those incredibly expensive clothing from Maison Mode.
"Back in those days, I would hesitate to spend even 100 yuan ($16) on a shirt. In Maison Mode, the clothes could cost 1,000 yuan. I did not even dare to step inside the store."
The apartment block lost much of its glamorous sheen when Maison Mode vacated the premises in 2007. Taking its place was a branch of the Industrial and Commercial Bank of China, which was recently shuttered. The only standout business on the ground floor is currently Qiao Cafe, a new eatery that offers Chinese-Western breakfast sets. Most of the shop spaces are still awaiting new tenants.