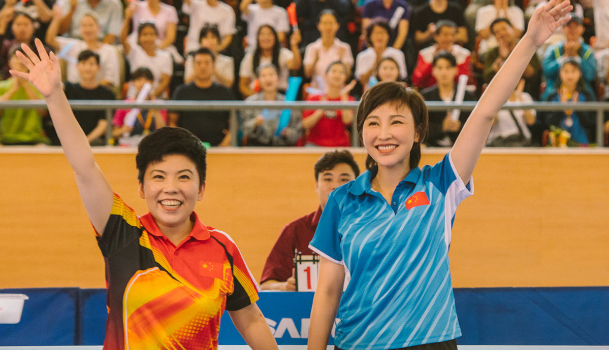 To Be With You, an online anthology series consisting of six stories, will see one tale feature China's table-tennis legend Deng Yaping in a scene "playing" herself.
As a tribute to mark the 100th anniversary of the Communist Party of China's founding, the series, which gathers more than 10 veteran actors, has been running on streaming site iQiyi since Feb 8.
The story with the four-time Olympic champion is titled Qing Chun Yong Zhu (being young forever), focusing on a table tennis player who struggles with memory loss for 20 years after fainting while training in the 1990s.
Veteran actress Yue Lina portrays the player, who will see her dream come true in a sequence where she plays table tennis with Deng.
Revolving around the same theme — showcasing a sense of happiness — the other five stories are about a police officer, a skillful welder, a rural startup founder, a couple struggling with their mid-life crisis and three elderly people's new dreams.
The series is listed as a highlighted program in the Spring Festival lineup by National Radio and Television Administration, the country's top sector regulator.
Wei Dangjun, director of the audio-visual programs department with the administration, said a surge of critically acclaimed online productions has propelled the rise of popularity and influence of such works in recent years.
Adding that To Be With Youhas gathered a stellar cast to finish shooting in a short time, Wei says the drama exemplifies a successful attempt to elevate the bar of online shows.