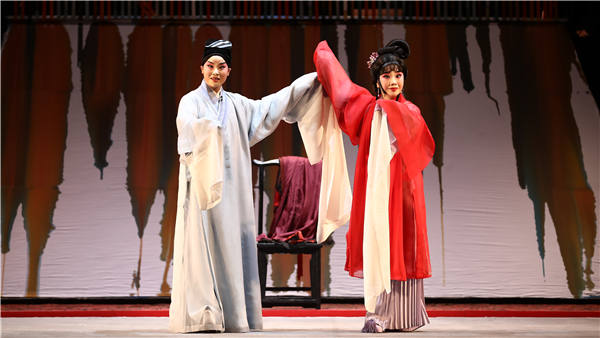 Some Pingju Opera artists, such as Li Zaiwen (1922-1967), better known by her stage name Xiao Bai Yushuang, and Yang Shumin (1927-1998), better known by her stage name Xin Fengxia, were household names in the country and developed their own performing styles, which are still studied by each new generation of Pingju Opera performers today.
Unlike Peking Opera, which often portrays grand battles and tells heroic stories, Pingju Opera is deeply rooted in the lives of common people in northern China, and often portraying their everyday life, household affairs and meandering romantic stories.
Wang, who was born and grew up in Dezhou, Shandong province, fell in love with Peking Opera as a child when her grandfather played Peking Opera excerpts at home.
When she was 15 years old, Wang came to Beijing to study at Beijing Opera and Arts College. Though her first interest was Peking Opera, she decided to learn to perform Pingju Opera because she was drawn to the sounds and melody of its pieces.
"It is an art form full of joy and charm because many of the stories told in Pingju Opera pieces are very humorous and romantic. However, it is a very demanding art, which combines singing, dancing and dialogue," Wang says.
"My teacher spent the first three years teaching me to sing three operas, which meant repetitively practicing my skills of singing and working with the band," recalls Wang. Like other traditional Chinese opera performers, Wang also received training in performing splits and somersaults.
After graduating in 2002, she started working with China Pingju Opera Theater.
"At that time, traditional Chinese operas were facing great challenges and were losing audiences. I made about 400 yuan a month and there were very few people coming to watch. I felt lost as a Pingju Opera performer," Wang says. "But I didn't want to give up. I worked so hard to master the skills of the art form, and I love it very much.