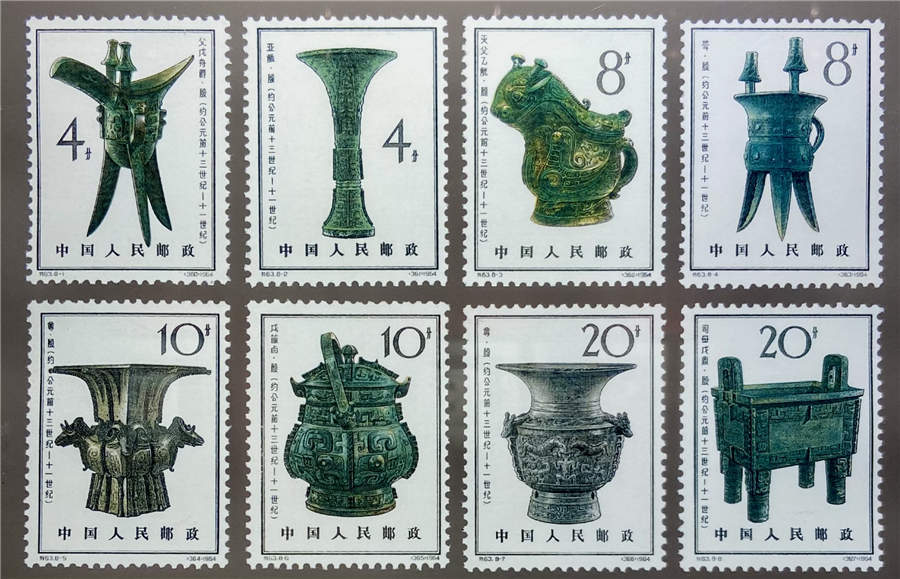 A set of stamps featuring archaic Chinese bronzes Shao designs on show. [Photo provided to China Daily]
Shao then added elegant decorative patterns and a black background outside the portrait centered on the design. The stamp was the first of its kind to feature an oil-painting portrait on Chinese postage stamps. It was thereafter hailed as the "best stamp of the year".
Shao says he respects Jin, who overcame cold weather and other difficulties to create "a historic piece of work".
He says Jin received 500 yuan for the portrait at the time which sounds "unbelievable", given that Jin's paintings sell for hundreds of thousands to millions of yuan today in the art market.
Shao worked with prominent painter Huang Yongyu, 96, to issue the golden monkey stamp in 1980.That year, China Post began to issue specially designed stamps featuring each of the 12 animals in the Chinese zodiac to celebrate Chinese New Year. The first piece of the zodiac rotation was the Year of the Monkey stamp.