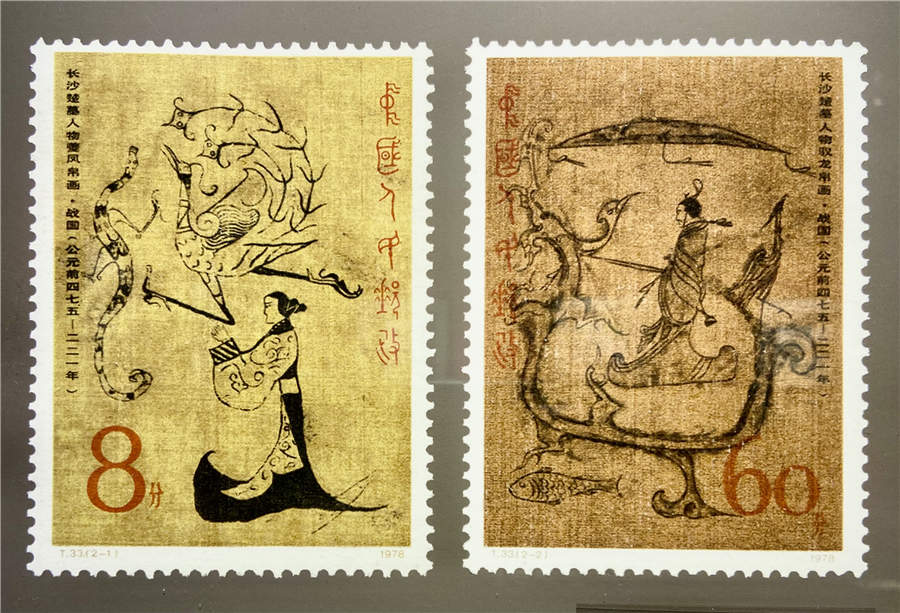 Two stamps designed by Shao Bolin feature the 2,000-year-old silk paintings unearthed in Chenjiadashan, Hunan province. [Photo provided to China Daily]
The display included one stamp issued in 1986 to commemorate the 120th anniversary of the birth of Sun Yat-sen, the Chinese revolutionary leader, which Shao co-designed with Jin.
Seeing the stamp and its design draft on show evoked in the two artists the memory of another cold winter day in 1985. Shao paid a visit to Jin, inviting the oil painter, who was famed for making realistic portraits, to work on a new stamp.
Both graduated from the Central Academy of Fine Arts in Beijing in the early 1950s. Jin spent months back then to complete an oil painting which depicts Sun against a riverside landscape of Guangzhou. He says that, in the work, Sun's black suit corresponds with the accumulating gray clouds over the city to deliver a solemn revolutionary atmosphere.