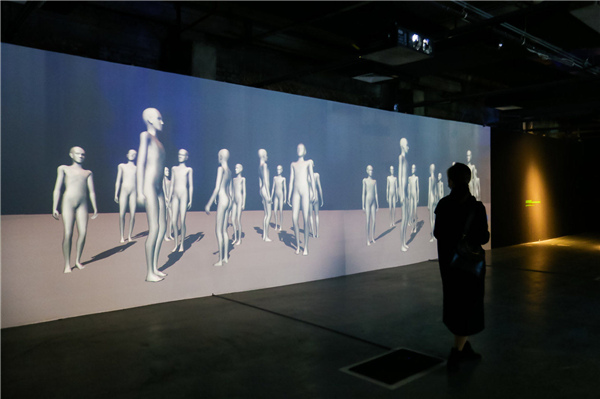 The ongoing exhibition, Player of Beings, in Shanghai features an interactive computer-graphics installation by Jeffrey Shaw, Fall Again, Fall Better, which explores another aspect of games-their relationship with life and death. [Photo provided to China Daily]
A new exhibition at the Ming Contemporary Art Museum in Shanghai explores the intrinsic relationship between video games and life.
An exhibition that documents the past seven decades of the gaming industry and its relationship with humans is now on at the Ming Contemporary Art Museum in Shanghai.
Scheduled to run until March 28, the exhibition Player of Beings features multimedia works of international artists at the forefront of contemporary art related to gaming and explores the development of humans' gaming experiences through videos, images and interactive facilities.
"Gaming is not only an influential industry that evolves with technological advancement, but also an activity that affects people's lives," says Qiu Zhijie, curator of the exhibition and director of the museum.
"The show will facilitate discussions on the relationship among games, social changes and human beings."
The history of gaming is shown through demonstrations of game-related advertisements and video-game consoles, like the ATARI 2600, released by US video-game developer Atari Inc in 1977, and Subor D99, which was developed by Subor, a company based in Guangdong province in the 1990s.
"Another valuable exhibit is Apple II that was designed by Stephen Wozniak, the cofounder of Apple Inc, which facilitated a new era of personal computers through its graphics-computing power. Apple also laid the technological foundation for video-game advancements afterwards," says Chen Baoyang, another curator of the show.
Visitors can enjoy an immersive experience starting from the second section of the exhibition, which features a host of game consoles they can play on. Each visitor will be provided with two gaming tokens.