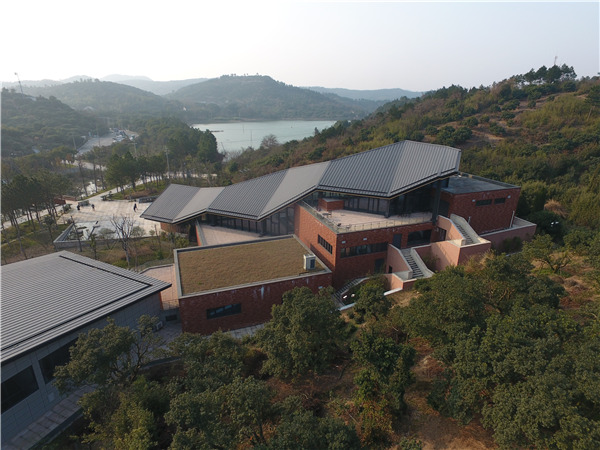 The Shanglin Lake Yue Kiln Museum at Cixi's Shanglin Lake, which was a celadon-production hub that operated for a millennium. [Photo provided to China Daily]
"Saggers for mise ware were non-reusable because they were sealed with glaze for maximum protection and had to be broken to retrieve the finished products."
The Yue kilns at Shanglin Lake produced celadon for more than a millennium. Celadon has become part of the identity of Cixi, whose city logo features a mise vase.
To bring the ancient art closer to people, the Shanglin Lake Yue Kiln Museum offers celadon-themed workshops on weekends and public holidays.
Participants can try their hand at making and painting celadon themselves at these free events. Talks about the culture and history of celadon are also organized for students and the general public.
An archaeological park featuring the Yue Kiln Sites at Shanglin Lake opened in 2017.It offers free admission and receives an average of 340,000 visits a year, park authorities say.
"The technique for making mise celadon remains a mystery," Du says.
It continues to be one of the "best-kept secrets" of Chinese ceramics.