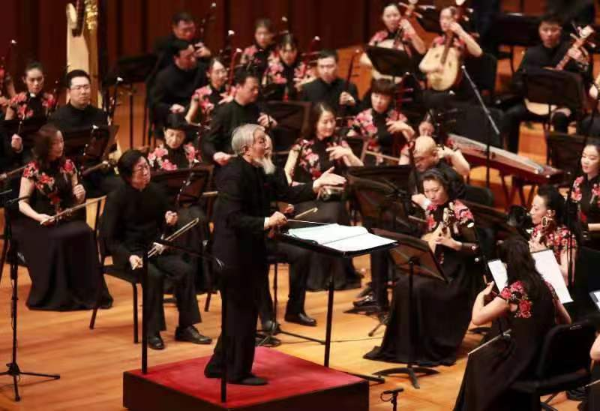 Ode to Guan Gong was staged at the National Center of the Performing Arts in Beijing on Dec 15. [Photo provided to China Daily]
Guan Gong, a legendary mythical figure worshipped by many Chinese as a symbol of safety and wealth, has been honored by Chinese composer Jing Jianshu with a new musical piece, titled Ode to Guan Gong, which was staged at the National Center for the Performing Arts in Beijing on Dec 15.
Guan Gong is a name referring to Guan Yu, a general in the period spanning the late Eastern Han Dynasty (25-220) and the Three Kingdoms (220-280). Guan was one of the most prominent generals of his time serving under the warlord Liu Bei. He played a significant role in the civil war that led to the collapse of the Han Dynasty. Known for his exceptional valor and loyalty, he was deified as Guandi or Emperor Guan.
Guan was born in the modern-day village of Changping near the city of Yuncheng, Shanxi province. The city holds a Guan Gong Cultural Festival, attracting people throughout the nation to pay homage, and also has temples dedicated to Guan Gong.
A local Yuncheng orchestra, which specializes in traditional Chinese music and is affiliated with the musicians association of Yuncheng, along with the China Broadcasting Chinese Orchestra performed the concert under the baton of the composer, Jing. The musical piece was premiered at Yuncheng, Shanxi province, on Sept 15.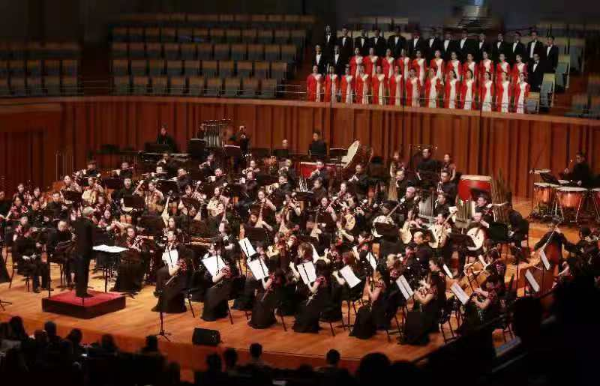 Ode to Guan Gong was staged at the National Center of the Performing Arts in Beijing on Dec 15. [Photo provided to China Daily]