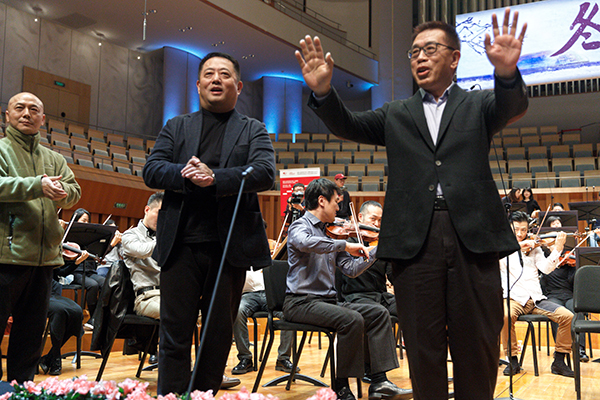 Wang Ning (right), director of the NCPA, speaks at the anniversary ceremony. [Photo by Jiang Dong/China Daily]
As the NCPA's resident orchestra, it has grown to be a mainstay of its home theater since its founding in 2010.
In 2014, the orchestra undertook its first North American tour and returned there in 2017, when it performed at Carnegie Hall, Chicago Symphony Center, Davies Symphony Hall and other major venues in the US and Canada, under the baton of Lyu.
"When we perform together as a symphony orchestra onstage, we speak with our musical language, which speaks to the imagination of the audience. That's the most beautiful part about enjoying a classical music concert," says Lyu. "We feel proud of what we've achieved. As a symphony orchestra, we are still very young."
Violinist Li Zhe joined in the orchestra a year after it was founded.
"Like many of my colleagues, we started to play with the orchestra in our early 20s and now we are in our 30s. We've married and had children since. Being a member of the orchestra for 10 years is a great part of our lives," says Li.
After starting to learn the instrument at 5 years old, Li studied with the late music educator Lin Yaoji at the primary school affiliated to the Central Conservatory of Music in Beijing. Later, after graduating from the Central Conservatory of Music, Li studied at the Guildhall School of Music and Drama in Britain.
"One of my teachers told me that the major function of music is to comfort people. I totally agree with that. Especially when we are going through the pandemic, we need music," says Li.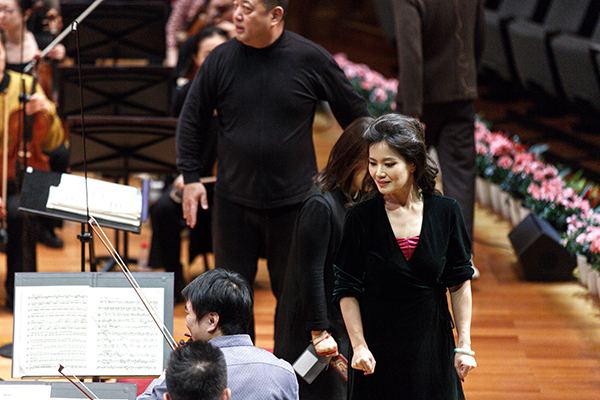 Soprano Song Yuanming (right) at the rehearsal. [Photo by Jiang Dong/China Daily]