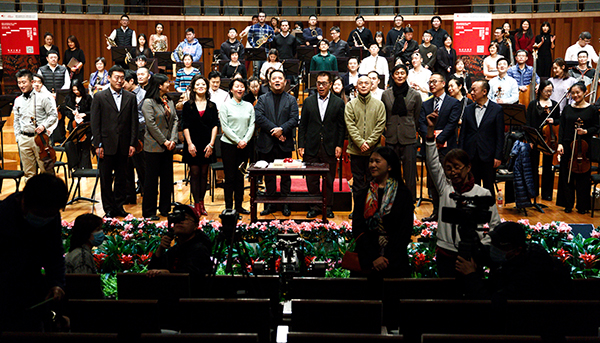 The China NCPA Orchestra holds a ceremony to mark its 10th anniversary after an open rehearsal at the National Center for the Performing Arts in Beijing on Nov 12. [Photo by Jiang Dong/China Daily]
The 2020-2021 season that will be delivered by the orchestra is quite different, as Ren says, "it pays tribute to the continuously innovative human spirit".
Paraphrasing a line from the Confucian classic The Book of Rites, which translates roughly as, "If you can improve yourself in a day, do so each day, forever building on that improvement and you will evolve", the orchestra has adopted it as the 2020-21 season's theme: ri xin in Chinese, "evolution" in English.
"For all the musicians of the orchestra, who didn't perform together onstage for months, the season means a new beginning. For the audiences, who were not able to enjoy live concerts at the NCPA, it's also a reunion with classical music," says Ren, adding that the orchestra has performed 38 online concerts since April, which received warm feedback from audiences.
Marking the 250th anniversary of Beethoven's birth, the orchestra will present the Beethoven 250 series, performing the German composer's nine symphonies and his 11 overtures under the baton of music director Lyu Jia.
On Feb 25 and Feb 26, the NCPA Quartet, featuring violinists Li Zhe, Liu Xian, violist Zhuang Ran and cellist Liang Xiao, will perform Beethoven's string quartets, String Quartet No 4 in C minor Op 18 and String Quartet No 6 in B flat major Op 18. They will also premiere a new piece that pays tribute to the great composer, About Beethoven, written by Chinese-Australian composer Julian Yu.