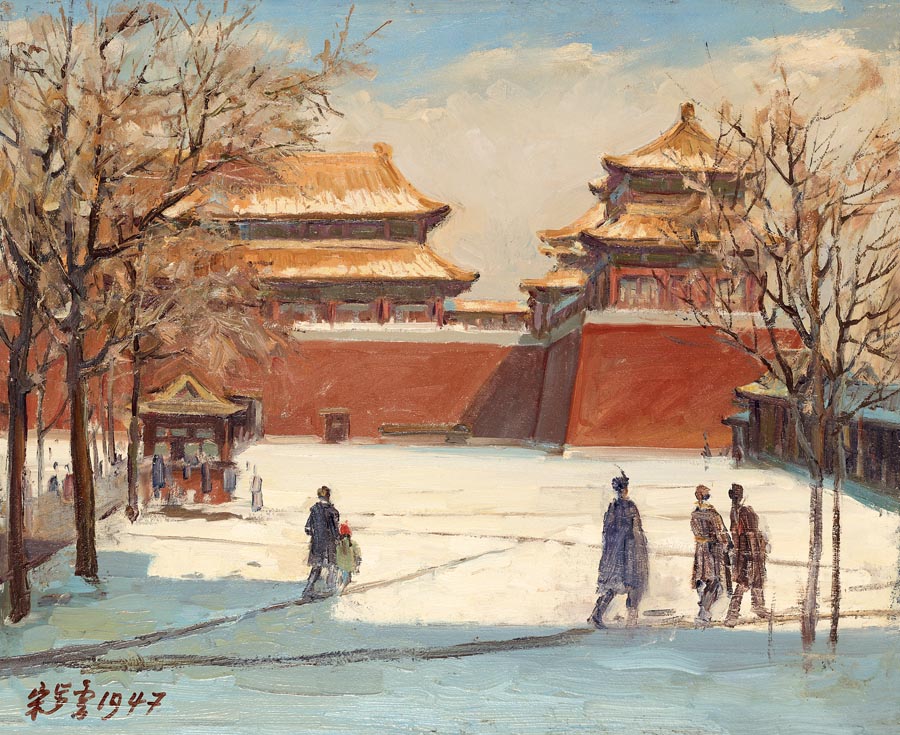 Wumen Gate, a snowy scene depicting the Forbidden City, an oil painting by the late artist Song Buyun, is part of an ongoing exhibition, A Broad-minded Man Between Clouds and Waters, being held to mark the 110th anniversary of Song's birth, at the art museum of the Central Academy of Fine Arts. [Photo provided to China Daily]
Anniversary exhibition celebrates Song Buyun, an artist who reveled in capturing the spirit of old Beijing and its people, Lin Qi reports.
These days, a long-awaited snowfall in Beijing easily creates a fanfare online. One need not to go outside to feel people's excitement at a blanket of snow descending on the city, as a glimpse of the photos and videos uploaded on social media will suffice.
Seventy years ago, however, unlike now, while snow was not uncommon in the capital, cameras were a rarity; few were able to record the historical city's tranquil scenery. One of the few was Song Buyun, the late oil painter and watercolorist who walked the streets and captured on canvas the beauty of the capital's centuries-old architecture.
In the late 1940s and throughout the '50s, Song worked at the Central Academy of Fine Arts and then ministry of culture (now Ministry of Culture and Tourism). In his spare time, he traveled around Beijing and its suburbs, and depicted, in numerous oil works, the varying landscapes and people's life at the time.