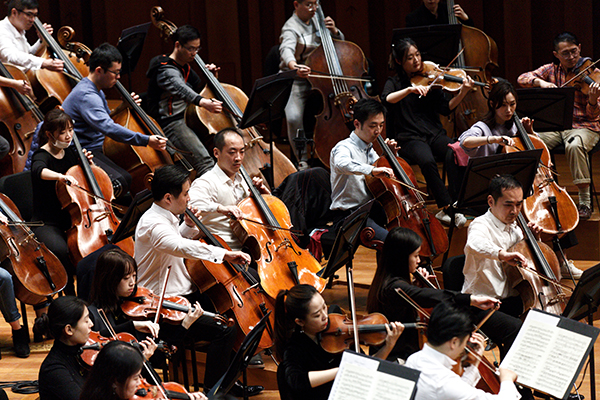 Musicians with the orchestra rehearse Beethoven's work. [Photo by Jiang Dong/China Daily]
Yu, 63, who was born in Beijing and graduated from the Central Conservatory of Music in 1977, moved to Australia in 1985 and teaches at the University of Melbourne. Commissioned by the orchestra, the composer's piece, Evolution, will premiere on Dec 20. Echoing the theme of the orchestra's 2020-21 season, the piece also celebrates the 13th anniversary of the NCPA.
The year 2020 also marks the 160th anniversary of Mahler's birth. In the Mahlermania series, conductor Lyu leads the orchestra in performances of Mahler's The Song of the Earth, Song of a Wayfarer, and the unfinished Symphony No 10.
On March 12, the orchestra will premiere Chinese-American composer Bright Sheng's new piece, titled Roosters of Dawn, co-commissioned by the orchestra, Carnegie Hall and the National Arts Center of Canada. The piece embodies a cultural integration of the East and the West.
Veteran Chinese composer Zhao Jiping will be featured as the 2020-21 season's composer-in-focus, with the orchestra, performing his works, including Pipa Concerto No 2 and Violin Concerto No 1.
"I've worked with the China NCPA Orchestra many times and they've premiered some of my compositions. Those young musicians fill me with the passion and desire for creation," says Zhao, 75, who is known for his film scores for Chinese director Zhang Yimou's Raise the Red Lantern (1991) and To Live (1993), as well as director Chen Kaige's Farewell My Concubine (1993). He has been commissioned by the orchestra to write a new symphonic choral work, titled The Story of Flowers.