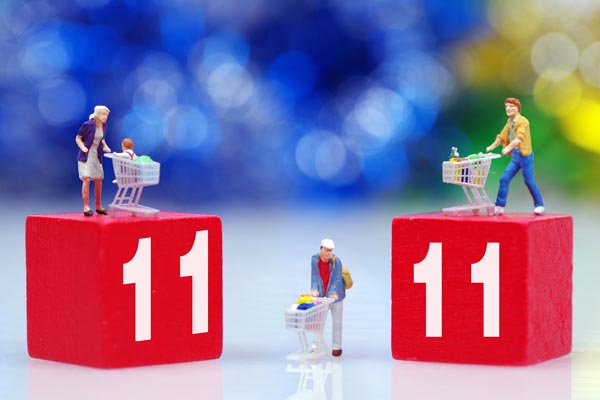 [Photo/VCG]
Homo sapiens are usually classified into "pairs of opposites": the good and the evil; believers and non-believers; and haves and havenots. Martin Luther King Junior saw people as "children of light" and "children of darkness". In the words of "the ugly" Tuco (played brilliantly by Eli Wallach in Sergio Leone's The Good, the Bad and the Ugly), "The world is divided into two kinds of people: those who have friends and those who are lonely."
The globalized, digitalized world may have divided people into the tech-savvy and the tech-challenged. Since the Alibaba-conjured Singles Day has evolved into an online-and-offline global consumption festival, people must be either e-commerce experts or e-commerce ignoramuses. Most expatriates in China will likely find themselves in the ignoramuses' camp due to language constraints.
In the first three quarters of this year, China's online retails sales rose almost 10 percent year-on-year to exceed 8 trillion yuan ($1.19 trillion). Online sales of physical goods now account for a quarter of total sales. Clearly, domestic consumption helps sustain pandemic-defying economic growth, and is key to China's new "dual circulation" development pattern that will underpin the 14th Five Year Plan (2021-25).
Last year, Alibaba alone generated $38.4 billion in gross merchandise volume on Nov 11(up from just $0.82 billion in 2011, and $30.8 billion in 2018). Consumer surveys indicate Alibaba's GMV this 11-11 may exceed $40 billion.
E-commerce platforms, local media and social media may be forgiven if they don't feel any compelling need to make 11-11 expat-friendly. But, as the Tesco tagline goes, "every little helps". Expats, if they are empowered with 11-11 deals information, can help boost consumption. So, here are a few tips:
1) Planning: Prepare a wish list, stay focused, to avoid buying unnecessary stuff.
2) Research: Well before 11-11, familiarize yourself with products, brands, models, prices, as well as T&Cs for guarantee and returns, on various apps and bulk-buying groups, to ensure comparisons are accurate.
3) Partnerships: Team up with your knowledgeable Chinese friends or colleagues.
4) Apps: They offer bigger discounts compared to websites. JD, Tmall, Taobao and Pinduoduo reign supreme. A few days in advance, register or confirm your details and delivery address in Chinese language-take your Chinese pals' or colleagues' help, if necessary. Link the apps to your Alipay and WeChat Pay. Customize notifications and permissions to stop the apps from turning pesky. Apps or websites are online marketplaces where sellers or e-tailers abound. There could be both general e-tailers that stock most brands and brands' exclusive e-stores. Figure how to wade through them all. The deeper you scroll, the lower the prices tend to fall. If you feel confident, graduate to niche shopping apps for travel, fashion, jewelry, cosmetics, furniture and food. Uninstall apps, if you will, after 11-11 frenzy subsides.
5) Translations: Translation apps of Baidu, Bing and Google are useful. Learn how to copy-paste Chinese text or screenshots of text from apps into translators, and vice versa. The right keywords will produce accurate in-app search results.
6) Groups: Shopping groups on WeChat offer deep-discount e-coupons on bulk buying. They simplify 11-11 shopping by allowing consumers to request group moderators for e-coupons for specific products.
7) Interactions: E-shoppers can interact with sellers directly via in-app texting. Use translation apps to communicate.
8) Refunds: Post-payment or post-delivery refund claims are to be expected. Inserting screenshots or copied text into translation apps, you can easily figure the e-buttons on shopping apps for refunds. E-tailers will guide you on the replacement or refund process. A new law protects e-commerce consumers in China.
9) Offline: Physical stores, too, offer irresistible 11-11 deals, not just apps that use AI, livestreaming, and augmented reality. Don't forget malls and hypermarkets.
10) Couriers: COVID has shown the world will struggle without them. Generously tip your couriers when those angels make their timely, impeccable deliveries. Reuse or recycle packaging material. Spiritualize your shopping.