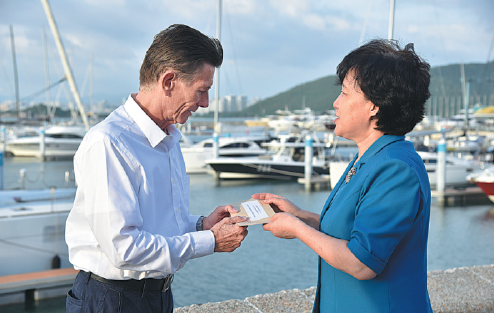 About 10,000 letters of interpretations on local preferential individual income tax policies have been delivered to high-level professionals in Hainan Free Trade Port. [Photo provided to China Daily]
Construction of the Hainan Free Trade Port is gaining momentum, with more policies introduced to further facilitate investment and spur quality growth, according to government officials and experts.
New policies allowing foreign investors to have wider access in a number of key areas at the Hainan Free Trade Port are in the pipeline, central authorities said.
The upcoming measures are part of China's drive to build Hainan into a free trade port and attract more foreign investment, said Meng Wei, a spokeswoman for the National Development and Reform Commission.
A master plan for the construction of the Hainan Free Trade Port was released by Chinese authorities on June 1. It aims to build the southern island into a globally influential high-level free trade port that embodies Chinese characteristics by the middle of this century. The tropical island, dubbed "China's Hawaii" or the "Hawaii of the East", covers about 34,000 square kilometers.
The master plan, together with a number of other plans issued in the past five months by ministries under the State Council and the Hainan provincial government, provide incentive policies and attractive options such as a zero-tariff policy for the trade of goods, a low income tax rate for individuals and preferential taxation policies for corporations.
The new moves are expected to facilitate the flow of capital and business on the island. These are also expected to help with the development of tourism, modern services and high-tech industries, including fields such as tropical agriculture, aerospace, medical and healthcare and marine economy, experts said.
Hainan's opening-up is attracting investment from overseas. Actual use of foreign capital in the island province hit $387 million in the first eight months of this year, surging 33 percent year-on-year. Over 400 foreign companies established offices in the province, an increase of 86.7 percent year-on-year.
On the list of the new overseas business entities in Hainan were some of the world's top 500 multinational companies such as Britain's Rio Tinto Group, French energy giant EDF and Thailand's Charoen Pokphand Group.
More than 40 central State-owned enterprises and their subsidiaries have launched regional headquarters and business units across the island with 47 billion yuan ($6.72 billion) of registered capital. Over 100 SOEs are expected to enter the Hainan FTP in about three years, according to the provincial government.
Following the government policy that expanded the annual individual tax-free shopping quota from 30,000 yuan ($4,500) to 100,000 yuan on July 1, the island has seen a steady influx of tourists and a surge in consumption. Data from Haikou Customs showed Hainan recorded duty-free sales of 10.85 billion yuan between July 1 and October 19, up 218 percent on a yearly basis.
In the past two years, the Hainan provincial government has worked to upgrade its business environment and lower barriers to trade and investment. Officials hope to build the island into a high-quality free trade port.
Last week, the government of Hainan moved one step further by unveiling guidelines that highlight institutional innovation.
The guidelines listed 18 action plans with a total of 60 missions that involve promoting institutional innovation, streamlining administrative procedures, facilitating free trade and investment and the free flow of capital and talent, building an efficient logistics system and protecting data security.
Officials said the plans will help the island become a free trade port with an efficient legal system, an internationally competitive tax system and first-class business environment. Its social governance will attract more companies and investors while helping to boost industrial competitiveness and the development quality of the island.
The free trade port will adopt a negative list for the management of imported products, according to the guideline. Experts said that with more favorable policies being drafted and implemented, Hainan is expected to be the next frontier of China's opening-up.
During a recent visit to Hainan, representatives of more than 70 key European enterprises were impressed by the Hainan FTP's policies and said there is great potential for cooperation.
Jorg Wuttke, chairman of the European Union Chamber of Commerce in China, said that Hainan's policies are very attractive.
"Hainan faces an unprecedented development opportunity and it needs to further improve its infrastructure and governance to attract more talents to do business," said Kuang Xianming, a director with the China Institute for Reform and Development.