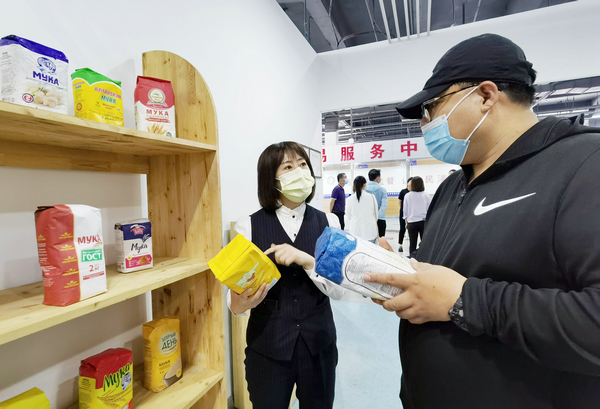 A staff member at the market introduces a pack of Russian flour to a customer. SHAO GUOLIANG/FOR CHINA DAILY
The opening of the city has also attracted lots of Russians to start their business there.
In the autumn of 2016, Igor Gorshkov quit his job in Moscow and, with a friend, opened a Russian sausage factory in Suifenhe.
"During my first visit to Suifenhe in the summer of 2016, I found a favorable business environment in the city and huge market potential for my products," says the 53-year-old man. "The government established the 'Russian Start-up Street' and provided places free for three years, which greatly attracted us."
In May 2018, Gorshkov expanded the factory's area with an investment from Chinese businessman Wang Dongkui.
"At first, I was just one of Gorshkov's customers," says Wang, who has been engaged in trade with Russia for more than 20 years. "When I found out that he had some difficulties in follow-up funding and expanding the business, I decided to join."
Wang provided them with a 600-square-meter plant as well as a sales plan.
"We keep the authentic Russian flavor and only reduce the salt in the formula to cater to Chinese tastes," says Wang. "And it works."
Their sausages have been sold to many parts of China, including the provinces of Jilin, Liaoning, Shandong and Guangdong.
"I feel proud to bring the traditional Russian sausages to Suifenhe, which helps to spread Russian food culture," says Gorshkov. "We believe there will be more China-Russia partners in the future with better cooperation."
zhouhuiying@chinadaily.com.cn