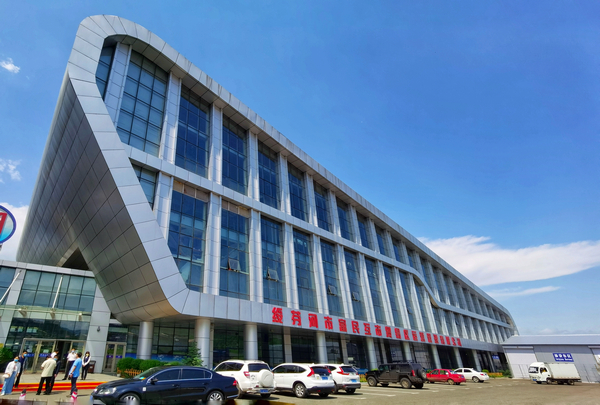 The free trade zone market in Suifenhe, Heilongjiang province. SHAO GUOLIANG/FOR CHINA DAILY
Every few days, Zhao Changqing goes to buy daily necessities imported from Russia in the free trade zone market in Suifenhe, Heilongjiang province.
"In the market, I have a lot of choices for high-quality and genuine Russian commodities, such as candy, chocolate, flour, pine nuts and frozen fish," says the 65-year-old retired civil servant. "Moreover, the price is definitely lower than in ordinary shops."
On Aug 9, 2011, Harbin Customs officially approved the establishment of a free trade market in Suifenhe to promote border trade in the city.
According to the policy, residents in Suifenhe can buy duty-free commodities with quotas of 8,000 yuan ($1,192) per day.
About 190 kilometers from Vladivostok, one of the largest cities in Russia's Far East, Suifenhe has 150,000 residents. It is the biggest Sino-Russian trade hub in Heilongjiang.
In 2019, per capita disposable income of urban residents in the city reached 39,600 yuan, ranking at the top of the province, according to local government.
In August 2019, the Heilongjiang Pilot Free Trade Zone, the northernmost FTZ in China, was officially established.
Suifenhe became one of the three areas in the zone, together with the cities of Harbin and Heihe.
To benefit more border residents and promote its border trade, Suifenhe encourages Russian businessmen in the free trade zone to cooperate with importers from neighboring countries.
By the end of 2019, the city had seen its free trade zone with Russia open to 14 more countries including Mongolia and the Republic of Korea, the city government said.
"We hope to see more high-quality and inexpensive commodities from different countries enter the Chinese market through the cross-border trade platform in Suifenhe, meeting the growing demand of consumers," says Bao Huixin, deputy director of the Suifenhe Free Trade Zone Administration.
"It will also play an important role in promoting the transformation and upgrading of the city's foreign trade industry," she says.
In the first eight months of 2020, over 72,000 metric tons of commodities were imported to the Suifenhe Free Trade Zone, a year-on-year growth of 155.62 percent. Import volume reached 343.9 million yuan, representing a growth of 2.6 percent over the same period in 2019, the local government said.