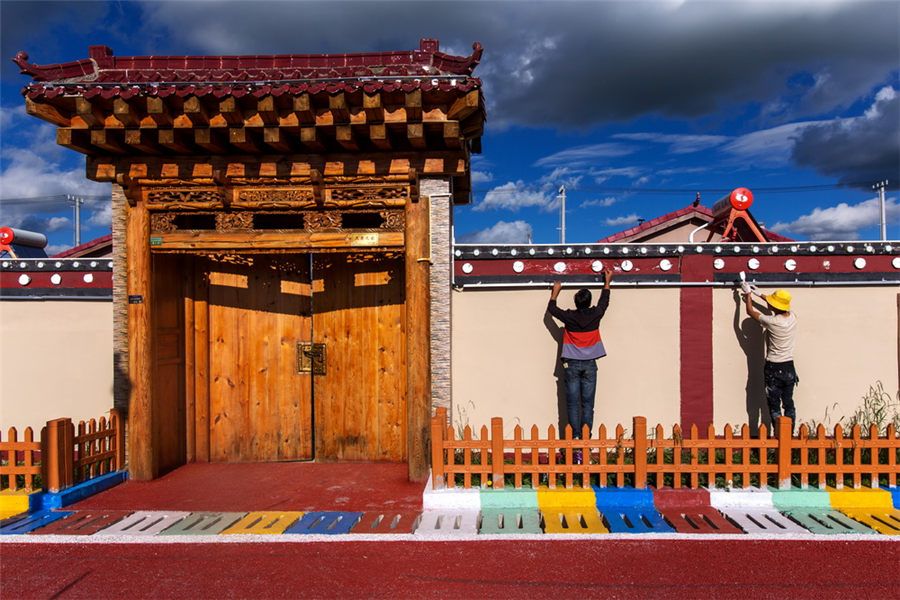 The construction workers brought by local government are beautifying the courtyard wall for villagers, in Gaxiuxin village, Luqu town, Gansu province, Aug 1, 2020. [Photo by Fei Maohua//cpanet.org.cn]
A recent photo exhibition in Beijing showcases lives of people dwelling at the Qinghai-Tibet Plateau.
Different ethnic groups on the Qinghai-Tibet Plateau are starting to lead a new life due to the anti-poverty campaign. New residences with local features rise from the ground, modern towns stand tall, flat and wide roads stretch far away, farmlands full of life buzz with activity of large machinery.
Boasting high towering snow mountains, vast green grasslands and tranquil lakes, the Qinghai-Tibet Plateau attracts tourists from home and abroad.
With the advancement of China's modernization, lives of people living at the Qinghai-Tibet Plateau are also undergoing tremendous changes over the past few years.