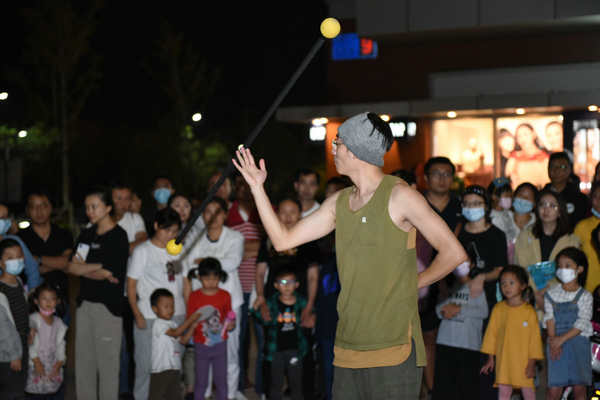 Street artist Li Chuang performs with long sticks in an outdoor art festival held recently in Shunyi district, Beijing. CHINA DAILY
Li Chuang was doing acrobatics with two long sticks in a vacant space at Shine Hills, a commercial zone in Shunyi district in northeast Beijing. With subtle movements the sticks danced on and off Li's body under his skillful control, enough to seem like they had a life of their own. His performance received bursts of applause from the audience, many of whom came to visit the street art festival, held from late September to Oct 11.
The 33-year-old from Beijing has performed in the annual event since it started in 2018. This year, he was among the more than 100 street artists who shared the fun and laughter with tourists.
He worked with a team of about eight artists and offered a crystal ball magic show and stunts integrating music and lighting. The atmosphere was electric and the audience showed their appreciation.
There were also public art exhibitions, street variety shows and folk music performed at the event by battalions of clowns, acrobats and singers, says Li Hui, a senior marketing officer of the zone. The visitors had free access to every performance and seemed to have enjoyed the various artistic expressions.