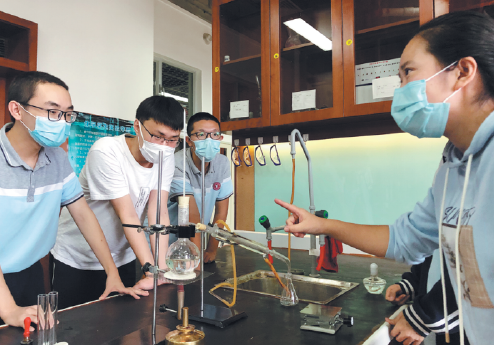 Chemistry teacher Cai Xia leads in an experiment in her classroom at the Karamay No 1 Middle School, Xinjiang Uygur autonomous region. YANG YANG/CHINA DAILY
Fu Rongxing and Zhang Bingxi, both 22, are sitting beside the Hongshan Lake at China University of Petroleum-Beijing at Karamay, Northwest China's Xinjiang Uygur autonomous region. Both are seniors at the university and are in a reflective mood. Fu studies accounting and Zhang studies oil and gas pipeline transportation. The students know that they will have to make a major decision about their lives shortly. After spending three years in Xinjiang, more than 3,000 kilometers away from their hometown in Central China's Henan province, both say they want to stay after graduation.
"There are a lot of opportunities in Xinjiang, but people usually like the more developed eastern area," Zhang says.
Fu adds: "After all, Xinjiang has a much smaller population than Henan province, so the pressure is relatively small."
According to the National Bureau of Statistics, at the end of 2018, Xinjiang had a population of about 25 million in its 1.66 million square kilometers. Henan had nearly 4.4 times the population but its area is only a little over one-tenth that of Xinjiang's.
With a population of less than 500,000, Karamay is a comfortable place, Fu says. But three years ago, after the college entrance examinations, when she decided which university she was going to attend, she can clearly remember hesitating at the suggestion of her current university.
"I thought Karamay was a desert, but a high school friend, who came here the year before, told me it's not," Fu says.