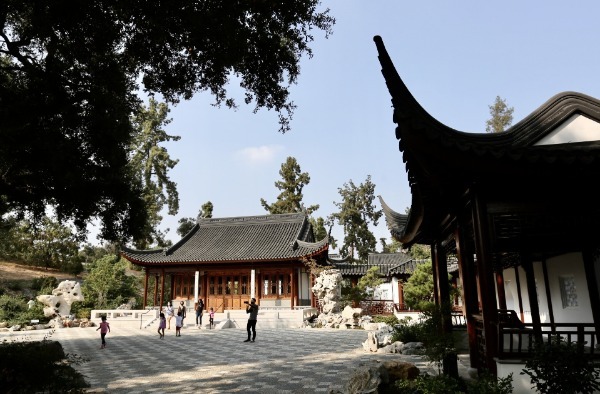 Tourists visit the newly expanded and completed traditional Chinese garden Liu Fang Yuan at the Huntington Library in Los Angeles on Friday.[Photo/Xinhua]
Inspired by the centuries-old Chinese tradition of private scholars' gardens, the Chinese garden made its debut in 2008.
Expanded from its initial 3.5 acres to 15 acres, the garden now is one of the largest Chinese-style classical gardens in the world.
The total cost of this final phase of construction was approximately $24.6 million. This brings the combined total cost of the garden to about $54.6 million, all of which was raised from individual, corporate, and foundation gifts, according to the Huntington.
A US-Chinese construction team was responsible for the project's implementation. More than 50 Chinese artisans from the Suzhou Garden Development Co spent six months at the Huntington, carrying out specialized carpentry, masonry, and tile work for the traditional structures in the final phase. Their craftsmanship gave the garden and buildings in it authenticity and beauty.
With the addition of its new buildings, including a Ming Dynasty (1368-1644) scholar's studio, an art gallery, a cafe, and an elegantly undulating miniature forest of penjing (miniature potted landscapes), the garden's flowing vistas are now complemented by several more exotic architectural spaces that frame and accentuate the Huntington's natural beauty with delicacy and finesse.
A steady stream of eager visitors meandered along the paths of the Chinese garden during the opening-all moving along newly designated, one-way paths to ensure proper social distancing for visitors during the pandemic.