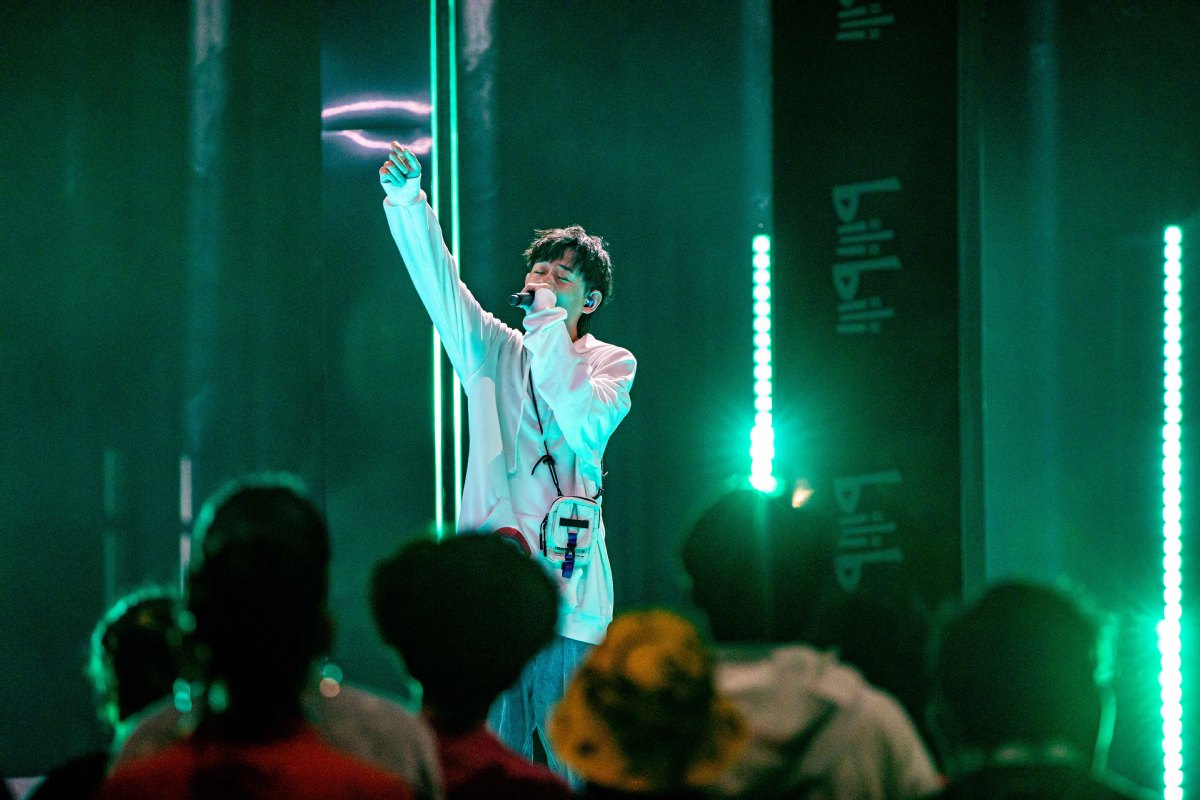 Subs, from Changzhou, Jiangsu province, performs on Rap for Youth. Photo provided to China Daily
New cosmetics
When Chen turned 15, she started to rap online, and two years ago, finished third in a national rap competition, one of her biggest breakthroughs to date.
"I bought new cosmetics for the competition because one of my favorite rappers, Danko, was one of the judges. I pretended to be very cool when he spoke to me, but I was so nervous," Chen said.
She had no plans to become a professional rapper, and for two years taught English at a training center for primary school students in her hometown.
"I wanted to prove to my parents that I could make a living on my own, so I worked as a full-time English teacher. After I made a success of this, I quit the job and became a rapper," Chen said.
"What I love most about being a rapper is that you can show attitude and be yourself with your songs. It's an art form, which is straightforward and very personal."
She took part in Rap for Youth because she wanted to meet more people and to see how other rappers made music.
The show, in which celebrities such as rappers MC HotDog and Higher Brothers take part, is staged in a renovated area at an abandoned factory in Wuxi, Jiangsu province.
The performers spend a lot of time in each other's company and even live together.
"The competition is intense and I was only able to get three or four hours sleep before appearing. My hands were shaking as I took the stage, but when I started to sing, I felt the lights shining on me and was totally in the zone," Chen said.
"I'm very happy I made new friends and they helped inspire me. Communicating with people gives me inspiration.
"The competition is continuing and I have no idea how it will turn out, but I'm dreaming about performing to packed live house venues one day."
Hip-hop took root in the United States in the 1970s.
It consists of stylized music that commonly accompanies rapping-a rhyming form of speech, which is chanted and which developed as part of hip-hop culture.
In China, hip-hop has had a fan base since the 1980s. The Western comedy-drama Breakin', directed by Joel Silberg, which arrived in the country in 1984, tells the story of a struggling young jazz dancer who meets up with two breakdancers.
According to media outlet The Paper, which is based in Shanghai, in 1989, Chinese rock star Cui Jian released his album Rock'n' Roll on the New Long March, in which he performs the rock/rap song It's Not That I Don't Understand.
In 2017, The Rap of China, a reality show produced and broadcast by iQiyi, one of the nation's largest online streaming sites, placed hip-hop firmly in the spotlight for the first time in the country.
The show attracted some 2.7 billion views and provided a forum for underground rappers such as Gai, whose real name is Zhou Yan, and Nawukere, from Xinjiang Uygur autonomous region in the northwest of the country.
Gai, 33, the first winner of The Rap of China, and now one of the show's four judges, said: "Compared with pop music, the market for Chinese hip-hop is small. We need more rappers to have their voices heard."
Born and raised in Weiyuan county, Sichuan province, Gai used to rap in a bar in Chongqing, where he made 200 yuan a night.
Since his win on The Rap of China, he has had a hectic schedule, performing on shows, at outdoor music festivals and on television.
Since its premiere, Rap for Youth has received more than 160 million views and has gained a high reputation among audiences.
It was the first competitive reality show launched by Bilibili, which boasts 172 million monthly users in China and is known for its young fan base.
Rap for Youth has received more than 3.14 million comments, also known as "bullet chat", from viewers-a reference to users posting their opinions on screen while watching the show.
The creative team started to prepare for the show in February, selecting 40 rappers from nearly 200 candidates. Originally, 2,000 to 3,000 rappers applied to appear.
Art form localized
Li Ni, Bilibili's deputy chairwoman and chief operating officer, said: "Rap music is popular among our users. We want the show to reflect Chinese rappers' mindsets and their lives. We also want to break the stereotype about hip-hop music, which used to be associated with rebellion and profanities.
"This Western art form has been localized in China, with rappers talking about their lives and expressing their views on issues of public concern."
Rap for Youth, directed by Yan Min, has made its mark by featuring young competitors whose music addresses issues such as mental health, campus bullying and prejudice against women.
Another promising rapper to appear on the show is Zhong Qi, better known by his stage name TangoZ, who comes from Hangzhou, capital of Zhejiang province, and raps in the local dialect.
He won applause for one of his songs, Love Paradise, which is about the city. He wrote it in 2018, when he decided to take part in a rap competition staged by a local radio station.
"I wanted the opportunity to perform at an outdoor music festival-and I made it," TangoZ said.
He wrote the song using a combination of the Hangzhou dialect and English because he wanted it to be different.
"There are rappers performing in dialects from Sichuan and Shaanxi provinces, but it's rare for someone to rap in the Hangzhou dialect," he said.
"I grew up with the dialect, which has unique tones, articulation and rhythm. It's very interesting to rap in it, which is different from rapping in Mandarin."
He added that it is good to see more people who appreciate rap in dialect, which is keeping local culture alive.
Tang Huan, a fan of Rap for Youth, who is also from Hangzhou, said: "I'd never listened before to anyone rapping in the Hangzhou dialect, which is so cool. This rapper really cares about the culture."
TangoZ, 32, first listened to hip-hop at middle school. A big fan of Taiwan pop star Jay Chou, he is impressed by the way Chou raps in his songs.
"I vividly remember learning to sing one of his hits, Nunchucks, and imitating his rapping over and over again," he said.
After graduating from Civil Aviation Flight University of China with a major in air traffic control, TangoZ works by day as an air traffic controller in Hangzhou. He wanted to quit his job and become a professional rapper, but changed his mind because he could not make a living from it.
Although his parents have no idea about rapping, they support their son's passion for the art form.
TangoZ, who now has some 50 original songs to his name, is good at observing life and committing whatever inspires him to lyrics.
"For example, when I take a bus and see people on the streets, I think of verses in the Hangzhou dialect and write down the good ones," he said.
Before TangoZ took part in Rap for Youth, winning the competition was his priority. However, now he enjoys spending time with other rappers and focusing on new material.
"What I love about the show is that it not only showcases rappers' skills, but also values the messages we deliver through our work," he said.