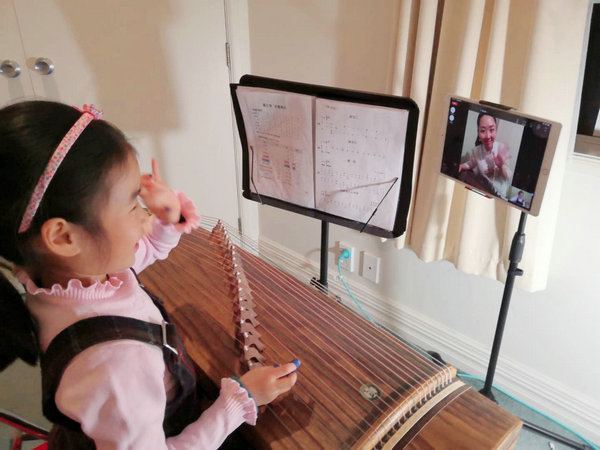 A student communicates with her guzheng teacher from the China Cultural Center in Wellington via the internet, Wellington, New Zealand. [Photo provided to Chinaculture.org]
Due to the COVID-19 pandemic, online classes have become the first choice for most students, either from primary school or colleges, to continue with their studies.
Same goes for learners at the guzheng (Chinese zither) class opened by the China Cultural Center in Wellington.
Ling Jia, teacher of the class, said there are over a dozen students who joined.
According to Ling, learners aged 4 to 60, kept practicing guzheng and stayed in contact with her via the internet during the three-month lockdown in Wellington.
The classes greatly helped students to face the pandemic when they had to stay at home.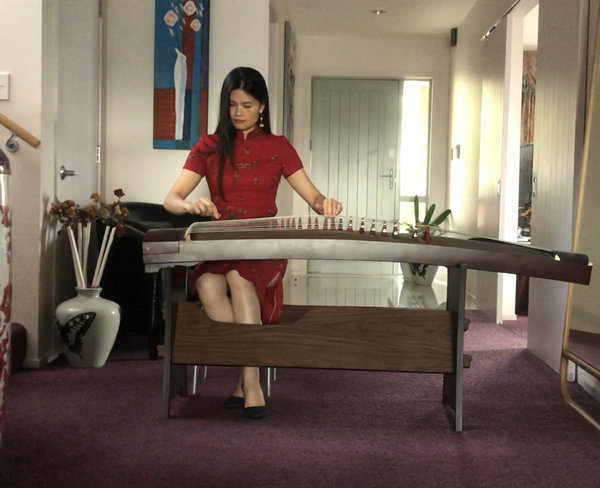 The China Cultural Center in Wellington launched online guzheng classes, which bring joy and relaxation to people in Wellington. [Photo by Anan/provided to Chinaculture.org]
A local learner, Anan, said she felt lucky to learn guzheng, which encouraged her to keep positive. At first, she only intended her daughter to learn. However, as she often accompanied her daughter during the study, she fell in love with the instrument. The mother and daughter even performed together many times.
Guo Zongguang, director of the center, said the pandemic let the center find a new way to help local people learn Chinese culture. Although online teaching was only taken as a temporary method, feedback from learners was beyond their expectations.