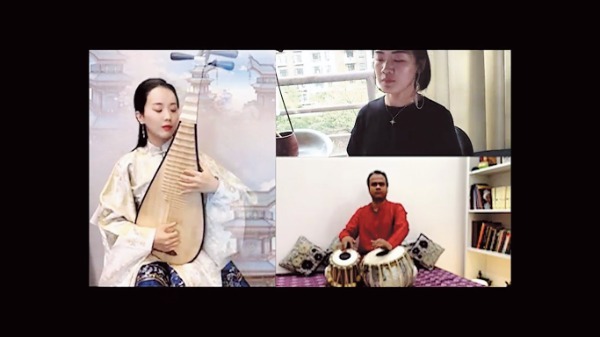 Chinese and Indian students and scholars take part in a micro-documentary to mark the 159th birth anniversary of Indian poet Rabindranath Tagore on Friday.[Photo provided to China Daily]
Beijing-based Bharatnatyam exponent Jin Shanshan has specially created dance moves in the mould of Rabindra Nritya, a dance genre from Santiniketan, for the independent project, while an Indian classical dancer and Tsinghua University scholar, Reshmita Nath, dances to a Tagore classic sung by a group of Chinese students who are studying Bengali.
Shenzhen-based graphics designer Qin Xiaoping, who studied fine arts at Visva-Bharati University in Santiniketan a couple of decades ago, has used the Chinese pen drawing style to draw a portrait of Tagore, who began painting after the age of 60.
The project is a result of the collaboration among students, scholars and faculty members from China's Peking University, Tsinghua University, the Communication University of China, Yunnan Minzu University, the United Kingdom's University of Bath, and India's Visva-Bharati and Doon University, as well as professionals from different cities in India, China and the UK.
The program was separately shot by the performers using their cellphone cameras in Delhi, Mumbai, Dehradun, Bengaluru, Bolpur, Jorhat, Bath, Beijing, Shanghai, Shenzhen, Yuncheng and Kunming.
The performers are aged from 9 to 91, indicating how Tagore's works transcend age and generations. Portions of a poem from one of Tagore's anthologies, Stray Birds, a Mandarin translation of which is popular in China, have been recited in Mandarin by Deborshmi Nath, a 9-year-old Indian student from Beijing, while 91-year-old Tan Chung, an eminent historian and son of late professor Tan Yun-Shan, the founder of Cheena Bhavan at Visva-Bharati, shared his thoughts on Tagore, who visited China in 1924 and 1929 and was given the Chinese name Zhu Zhendan by Chinese scholar Liang Qichao.
"This is a special tribute to Tagore by his admirers in both India and China as we have also made an effort to recalibrate our story-telling process under the new normal due to COVID-19," says Pal.
The program's creative producer and editor is Showbhik Chowdhury and advisor is professor Yukteshwar Kumar.
Chinese and Indian students and scholars take part in a micro-documentary to mark the 159th birth anniversary of Indian poet Rabindranath Tagore on Friday. CHINA DAILY