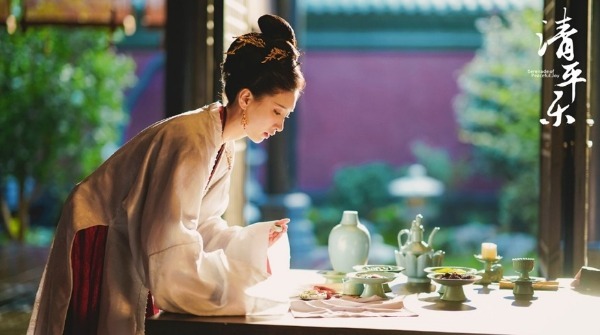 A still from Serenade of Peaceful Joy features a lotus-shaped wine-warming bowl, a wine ewer, plates and candle holders, which are all celadon. [Photo/douban.com]
Song ceramics
Many viewers have marveled at the beautiful and elegant porcelain featured in the show. The Song Dynasty saw a great leap in both ceramic art and technology. History holds that there were more than 1,000 kilns around the country. Craftsmen competed with one another to advance kiln technologies as well as search far and wide for fine and new types of clay as well as exotic glaze colors.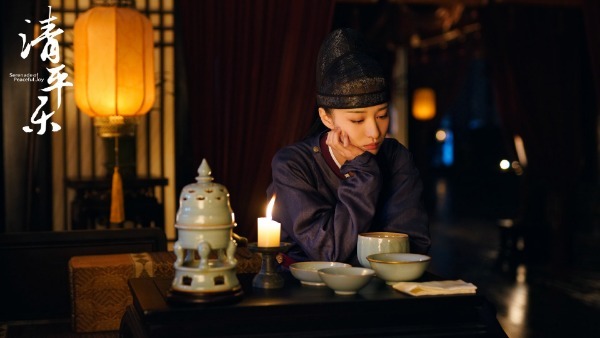 A still from Serenade of Peaceful Joyfeatures a celadon incense burner and several celadon utensils. [Photo/douban.com]
Among all the kilns, five –Ru ware, Jun ware, Guan ware, Ding ware, and Ge ware – stood out for producing the best porcelain for royals to use. Influenced by the aesthetic prevailing among scholar-officials who valued minimalism and nature, Song ceramics are known for their straightforward shapes, muted coloration, glazes in subtle hues, and nature-inspired decorative motifs.
Distinct for its rare light bluish-green glaze, fine craftsmanship and jade-like gloss, Ru ware celadon is heavily featured in the drama along with a smattering of the black-glazed porcelain from the Ding ware.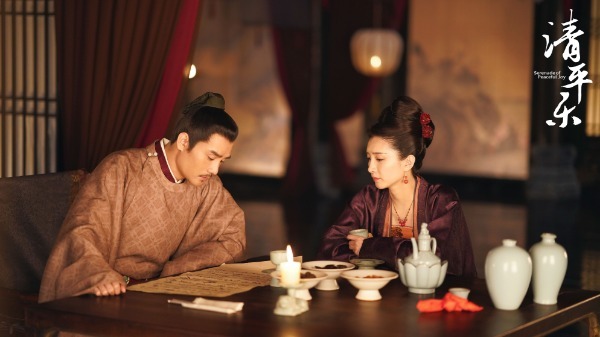 A still from Serenade of Peaceful Joy features a number of celadon pieces on the table. [Photo/douban.com]