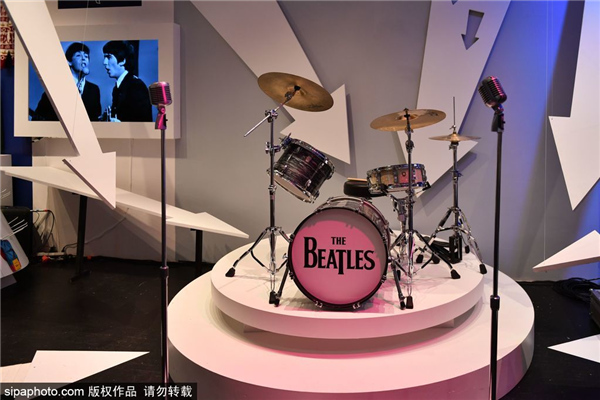 [Photo/sipaphoto.com]
As a UNESCO City of Music the beat notches up a few octaves during a typical weekend when thousands of people converge on Liverpool. But recently the normally crowded Cavern Quarter, centered around the iconic club where the Beatles rose to fame, has remained silent.
Birthplace of the rock band the Beatles in the 1960s, music remains the heartbeat of this northern English city. Normally crowded bars which in pre-coronavirus days were a magnet for tens of thousands of revellers and music lovers from across the city and across the world, are deserted.
The turntables are not spinning, look-alike Beatles impersonators have no stage on which to perform, the statue of the late Beatles member John Lennon, looks like a lonely figure in Mathew Street.
The main downtown area, known as Liverpool One, is in sleep mode with the department stores, fashion shops and restaurants put on hold by command of the British government.
Liverpool, says Mayor Joe Anderson, is a city in crisis due to the virus, adding: "the number of our people with the virus is increasing dramatically."
Almost 80 years after the World War II, coronavirus has brought out a community spirit in Liverpool rarely seen since those dark days of the Blitz.
Communities are working day and night to keep people who are trapped in their homes fed with food as well as emotional support. A food parcel is as welcome as a cheerful hello from thousands of friends and neighbors who have formed a "people's army" to help the needy.
Anderson has organised the so-called "people's army", and so far thousands have volunteered to help with tasks ranging from shopping, delivering food, or just to check on people who live alone. The mayor has also arranged for homeless people, many of them sleeping rough in shop doorways, to be moved into hotels to help protect them from the invisible enemy.
"We are continuing to support each other in Liverpool," said Anderson who has set up a command center in his home, away from the iconic Cunard Building, the waterfront home of City Hall.
Anderson said the city is taking a painful hit to its economy because of the virus.
"Tourism employs 38,000 people in Liverpool and is worth 3.3 billion pounds to the city economy every year. The hospitality section, which includes hotels that provide 10,000 rooms has so far lost half of its 30 million pounds a week income," he told Xinhua.
Hotel rooms in Liverpool are like gold dust when either of the two big Premier League clubs, Liverpool and city rivals Everton, have home matches. With the football season on hold, rooms booked months ago are no longer needed.
Cruise ships that would have sailed up the River Mersey to Liverpool's famous UNESCO World Heritage Site waterfront will not be calling this year. Each of the floating palaces that ties up at Liverpool Pier Head is worth a million pounds (about $1.25 million) to the local economy.
The losses caused by COVID-19 pile on the agony for Anderson, a staunch Labour politician, grappling with an austerity-fuelled attack on the city coffers since the financial crisis over a decade ago.
"Cuts to our support grant by the national government over the last 10 years have left us around 440 million pounds worse off," said Anderson.
"Fortunately, Liverpool is a city that has always pulled together. We have faced a number of difficult periods over the last few decades, and always come through," he said.