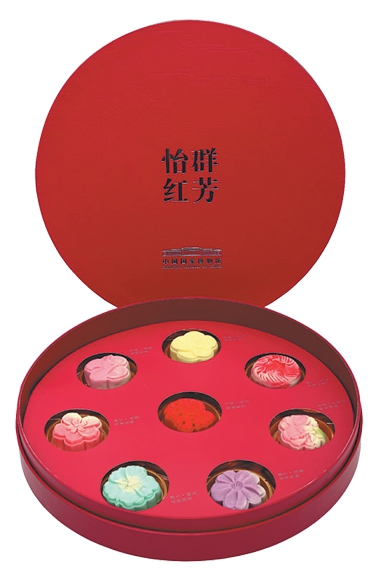 A set of traditional pastries, inspired by a Qing painting titled Feast at Yihong Courtyard, is on offer to visitors.[Photo provided to China Daily]
Interestingly, instead of treating her guests with quality tea as it is described in the novel, Miaoyu presents a bottle of the cocoa that the poster advertised.
Dream of the Red Chamber has long been one of the most adapted pieces of Chinese literature. For example, Peking Opera arias based on the novel's plot and sung by the late master artist Mei Lanfang also became classics.
The exhibition displays two black-and-white photos, both from the collection of the Chinese National Academy of Arts, one showing Mei portraying Daiyu in an opera-film titled Daiyu Buries the Flowers from 1924, and another in which he played Qingwen in a play titled Qingwen Tears the Fan in 1916, both noted scenarios from the novel.
Several video screens are also installed at the exhibition where visitors can choose from some 36 films, dramas, operas and folk tunes inspired by the novel, ranging from a 1944 film in which Zhou Xuan, the iconic singer and actress, portrays Daiyu, to a performance of the work given by the San Francisco Opera in 2017.
Specially created for the exhibition, a set of traditional Chinese guozi pastries which contain eight types of filling will be offered at stands in the museum and in its cafe, when the show reopens to the public in the future. The National Museum of China will remain closed until further notice.
The cakes resemble eight flowers that appear in a 2.3 meter-long Qing-era painting in the National Museum's collection which is also on display at the current exhibition.
The painting, titled Feast at Yihong Courtyard, depicts a vivid scene from the novel in which a dozen of principal female characters gather at a night gala to celebrate Baoyu's birthday at his residence, Yihong Courtyard.