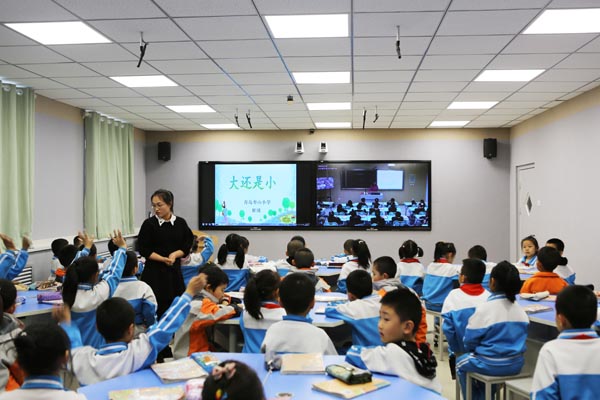 Online classes offer new learning experiences for students in the Xinjiang Uygur autonomous region. [Photo provided to China Daily]
Computers and the internet are opening up a world of online opportunities for students in Urumqi, Xinjiang Uygur autonomous region.
Students from the 104 Regiment Primary School of the 12th Division of Xinjiang Production and Construction Corps in Urumqi come every week to a high-tech classroom. Two screens are placed on the wall, as well as four cameras and six microphones on the ceiling. This modern environment, and net access, allows them to have an online class with teachers from Qingdao Zaoshan Primary School in Shandong province. With real-time connectivity they can hear and communicate with each other.
Since the project was launched in March, 11 schools in the division have joined, according to Feng Tianxiao, deputy director of the education bureau for the 12th Division of Xinjiang Production and Construction Corps.
"To balance education access for eastern and western China, teachers were sent to western provinces every year, which cost a lot in both financial and human resources. However, sometimes teachers who come west do not really meet the needs, thus, making it a waste of resources. To solve this problem, we introduced the online system," Feng adds.
Before a semester begins, teachers on each side will have online meetings to decide which classes can be shared with schools in Xinjiang and then set the schedule.
"The shared classes should begin at around 10 am, a time suitable for both sides," explains Hu Wenjiang, the headmaster of 104 Regiment Primary School.
During the class, teachers in Shandong can ask questions to students in Xinjiang and one or two local teachers will be present to help it run smoothly.
"To achieve continuous educational improvement, it is necessary to enhance local teachers' abilities," says Hu.