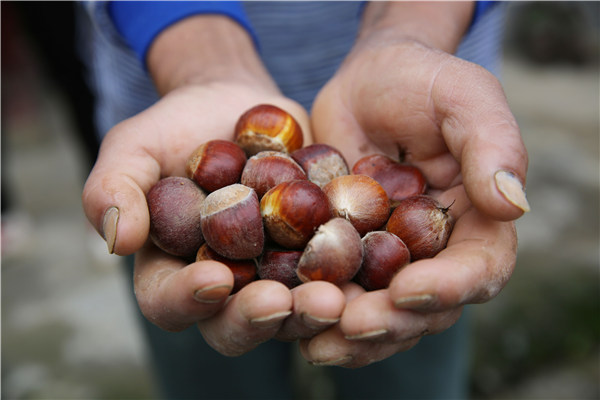 Roasted chestnuts are a common street food in China during fall and winter, where they are sold outdoors in many towns and at street intersections. [Photo provided to China Daily]
As a cold-weather comfort food, chestnuts are a healthy winter staple that can be cooked in a variety of ways.
Roasted chestnuts are cold weather comfort food. On the streets of Beijing, tiny hole-in-the-wall shops with big black drum roasters or huge iron woks are once again sending out the tempting aroma of caramelized chestnuts.
They are seasonal vendors, because for the rest of the year, the drums are silent and the woks cold and the shopkeepers sell dried fruits, melon seeds and sweet potato chips instead. Only after the autumn harvests does the roasting begin.
If you take an excursion out to the Great Wall at Mutianyu, you will see the native chestnut trees below as the cable cars take you to the hilltop. Tourists visiting the Ming Tombs, too, may also rest unaware beneath ancient chestnut trees.
But they are there, distinguished by their dark green ovate leaves with serrated edges, or their skinny catkins when it's flowering season. The easiest time to identify chestnuts is when the fruits ripen and fall to the ground.
The reddish brown nuts, two to three to a thorny case, will peek through an extremely prickly shell called the burr.
In my old campus grounds, there were plenty of stately trees in the park and Asian students used to gather fallen fruits, stamping on the burrs to release the nuts to save fingers from being pricked. The American chestnuts are much larger and need to be sun-dried for a bit to sweeten them. Otherwise they would just taste floury.