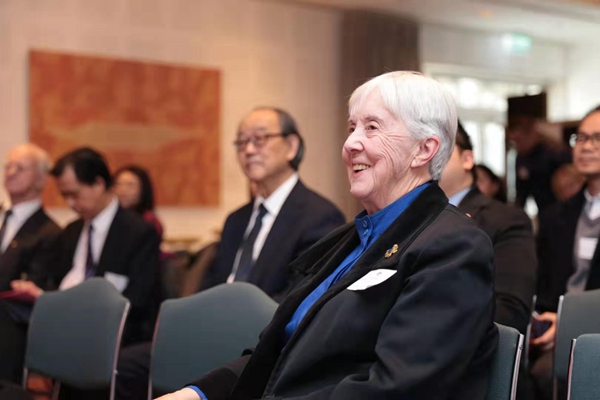 Jocelyn Chey, former cultural counselor at the Australian embassy in Beijing, attends the book launch for her autobiography, Lodestar China, on Dec 5.[Photo provided to China Daily]
A trade show was held in Beijing in 1974, when some sheep were flown in from Australia for a special shearing demonstration. The sheep were so expertly handled by the shearer that the audience wondered if the sheep had been sedated. Years later, some residents of the Chinese capital still talked about it.
It is among many anecdotes recorded in Lodestar China, the autobiography of Jocelyn Chey, the first cultural counselor at the Australian embassy in Beijing.
The book was recently translated into Chinese and will be published as part of the Australia China Series. Published by Qingdao Publishing Group, the first edition of this series comprises six volumes of books written by a diverse range of Australian authors describing China. The series was launched at the Australian embassy on Dec 5.
"Lodestar, or polestar, helped sailors to find the right direction in the old days. It seems I was driven to China by an invisible force, like fate," says Chey while explaining the book title.
Chey learned Chinese at university back home, and pursued her master's degree in Hong Kong. She worked in Australia's ministry of overseas trade, the Australian embassy in China and the Australia-China Council to build relations between the two countries over the decades, and she also witnessed important bilateral events.
She remembers an exhibition of China's cultural relics being held in Australia in 1977, which attracted 600,000 visitors at that time. A precious suit of jade pieces tied together with gold wire and Terracotta Warriors from Xi'an aroused the interest of many Australians. As her embassy's cultural counselor back then, Chey says she held talks with Chinese officials about staging the exhibition and heard stories about these Chinese cultural relics from the officials.
Speaking about how this book came about, Chey says she was invited to write it by Hugh Alexander Dunn, a former Australian ambassador to China who was publishing a series called Australians in Asia in 1996. Lodestar China was the last work in that series, which had other 20 books by Australian diplomats, businessmen and journalists.
"Chey is definitely a legendary figure who pioneered in establishing relations between China and Australia, and the book tells me not only about her legendary career but also her family life as an ordinary woman," Dai Ning, the book's Chinese translator, says.
Dai says she spent a month translating the book. The whole process went off smoothly for her.
"Chey described many things in Beijing in the 1960s and '70s. As a local Beijinger, I'm familiar with the things she has described in the book."
Chey says when she wrote it in 1996, few woman worked in the Australian government.
She is also the only female author in the Australians in Asia series, so she wanted to offer a woman's point of view through this book.
"Men with careers only think about their career and never mention their family in their books. But when a woman has a career, she also considers how it affects her family," she says, adding that she talks of both her career and her family in the book.
Chey says she describes in her book how her late Chinese Australian husband, Hans Moon Lin Chey, "influenced every aspect" of her career. After his death in 2001, she donated money to a library at the University of Sydney to buy digital data about Dunhuang in Northwest China's Gansu province, where Buddhist frescos were discovered in the Mogao Grottoes, in the hope that Australian experts could find them interesting to study.
Other original Australian series translated into Chinese include George Johnston's novel, The Far Road, which helped to raise awareness in Australia about the Japanese invasion of China, Australians in Shanghai by Sophie Loy-Wilson that researched the diverse Australian community in Shanghai in the first half of the 20th century, and the influential work Why China by C.P. Fitzgerald, who spent 20 years living in China.
"The series is a reminder that we have a long history together and our common interests outweigh our differences," the Australian Ambassador to China, Graham Fletcher, said at the book launch. "I am confident that this series will help further build understanding between our countries."