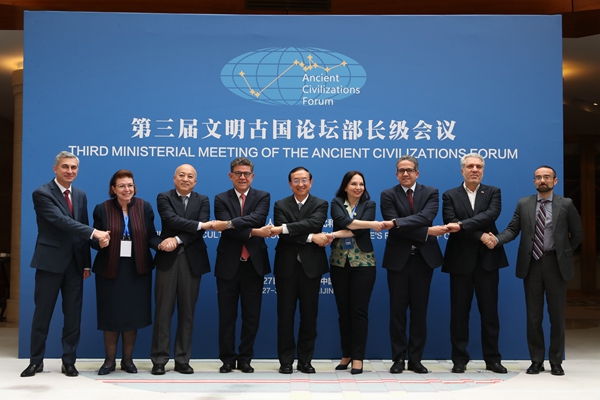 Luo Shugang (center), Minister of Culture and Tourism of China, poses for a photo with foreign representatives attending the ministerial meeting of the Ancient Civilizations Forum in Beijing on Friday.[Photo provided to China Daily]
Eight countries jointly called for the revitalization of historical civilizations in the development of a contemporary world.
The Declaration of Beijing was endorsed and signed by the member countries attending the third ministerial meeting of the Ancient Civilizations Forum, which took place in the Chinese capital from Wednesday to Saturday.
Attendees included ministers or diplomats from the countries with ancient civilizations-Armenia, China, Egypt, Greece, Iran, Iraq, Italy and Peru.
It was reaffirmed that "the heritage and wisdom of ancient civilizations transcend time and boundaries, remain vivid and relevant in today's globalized world, and are of vital importance".
As stated in the declaration, "All civilizations form a common heritage for humanity. No civilization is judged superior to another." It also shows support for "an international multilateral system with the United Nations at its core".
The declaration encourages the "strengthening of communication and cooperation in combating and preventing illicit trafficking of cultural property, safeguarding cultural heritage, and enabling the return of illicitly acquired cultural properties to their countries of origin".
It also calls for promotion of exchanges in scientific and academic cooperation on the protection of tangible and intangible cultural heritage "within the framework of international organizations, and UNESCO in particular".
The Ancient Civilizations Forum was originally initiated by both China and Greece to play an active role in promoting mutual understanding and inclusiveness among different cultures, races and religions. The inaugural ministerial meeting of the forum took place in Athens in 2017, and the second edition was held last year in La Paz, Bolivia.
"The forum has the confident voice of ancient countries heard within the international community," Luo Shugang, Minister of Culture and Tourism of China, said in a keynote speech at the forum meeting on Friday. "It has orchestrated a new chapter for dialogue among different civilizations.
"Only when we protect, inherit, and develop our fine traditional cultures," he said, "can the countries with brilliant ancient civilizations be capable of fully displaying their glamour in the new era and offer psychological support for their own development and globally shared advancement."
Delegates echoed Luo's comments and rushed to highlight the significance of the forum.
Ali Asghar Moonesan, Iranian minister of cultural heritage, tourism and handicrafts, points out that there are lasting disputes and conflicts of interests in today's world. However, the emphasis on similarities of ancient cultures can better connect different interests.
"In a world that is interconnected and indivisible, the consensus of the international community for protecting the cultural heritage of humanity is indispensable," says Styliani Mendoni, the Greek minister of culture and sports. "Ancient wisdom can provide us both with a balanced and holistic approach to heritage and a vision on what heritage will be, what humanity will be in the years to come."
The next ministerial meeting of the Ancient Civilizations Forum will be staged in Peru in 2020.