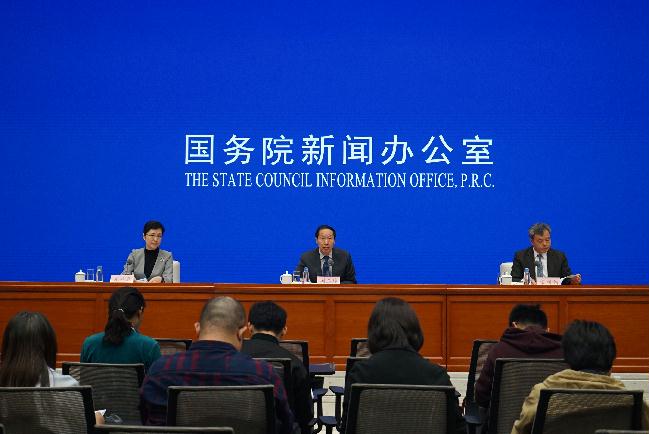 Liu Yuzhu, head of China's National Cultural Heritage Administration, addresses a press conference held by the State Council Information Office, Oct. 10, 2019.
BEIJING, Oct. 11 (Xinhua) -- China will soon announce the country's eighth group of 762 major cultural heritage sites to be put under national-level protection, according to China's National Cultural Heritage Administration (NCHA).
With the newcomers, China will have 5,058 historical and cultural sites for national-level protection and preservation, Liu Yuzhu, head of the administration, said Thursday at a press conference.
The 762 sites consist of ancient ruins, tombs, constructions, grottoes and other sites of historical and cultural significance, according to Liu.
The selected sites reflect the development of Chinese society from different aspects, including agriculture, education and industry, said Song Xinchao, deputy head of the NCHA.
The administration will take joint actions with provincial-level authorities to enhance the protection and preservation of the sites, including restricting construction projects near the sites, assigning institutions to take charge of protection and clarifying the responsibilities of all relevant parties, said Liu.
DIVERSIFIED ANCIENT ARCHITECTURE PROTECTION
The number of ancient constructions in the eighth list has reached 280.
According to Liu, these constructions include pagoda, bridge, temple, city wall, government office, castle, residence, guild hall, shrine, archway, pavilion and others.
"The more diversified content has further enriched the system of cultural heritage sites under national-level protection," Liu said.
There are 167 ancient ruins and 30 ancient tombs in the eighth group of cultural heritage sites under national-level protection.
These ruins and tombs can be dated back to Paleolithic and Neolithic periods as well as the following historical periods.
Liu said they contain important values for and have significant promotion effects on the research of China's anthropogenesis, origin of civilization, as well as formation and development of the unified multi-ethnic country.