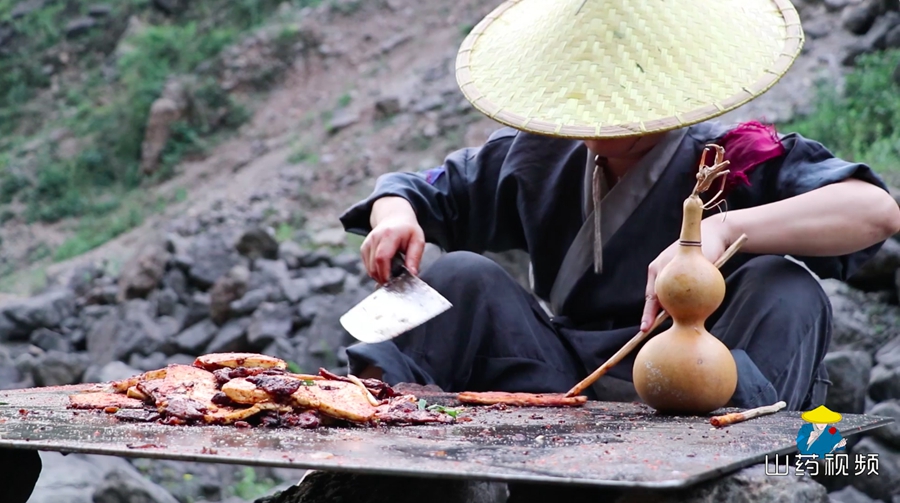 [Photo provided to China Daily]
Rise of a factory worker
These hit videos are the combined effort of Li and his high school classmate, Li Guilong, a freelance photographer who initially invited him to shoot videos in 2017, because of Li Junling's "offbeat sense of humor".
Li Junling used to labor for 12 hours a day in the factory. "Although I earned a stable salary, it was a professionally fallow period during which I could hardly make further progress or get promotion," he recalls, adding that, with a pregnant wife, he hoped to earn more money. He decided to quit the factory and started to make short videos with his friend.
The two then went back to their hometown Mianyang, and searched for rural settings in which to film.
Initially, they just focused on cooking in secluded places, but this failed to impress audiences. "It was a tough beginning for us. We only made 300 yuan ($42) for a month back then," recollects Li Junling.
Like their food, they had to spice up the series. Humorous plots, special effects and inspirational background music were added. "We could see from the increasing numbers of followers and comments on each video platform that these adjustments worked well," he says.
During the process, he learned how to add music, edit videos and cook authentic local Sichuan province dishes, such as suanlafen, or sour and spicy rice noodles and laziji, chicken with chili peppers-in scenic areas in the mountains or by the river.
The countryside-oriented visuals have helped propel them to global recognition.
"I seldom traveled to places outside of Sichuan before," says Li Junling, but now, due to their newly acquired fame, he has been to California and shared stories with foreign counterparts, which "broadened both my horizons and my circle of friends".
Li Guilong adds that the Shyo Video team has grown from the pair of them, but still consists of friends who were mostly high school classmates. The money has also started to come in.
"The team's monthly income has reached 200,000 yuan, mainly from advertisement and offline activities," says Li Guilong. "I'm so delighted that I can buy a big apartment in Mianyang for my family now."
The many languages in the videos' comments show Shyo Video's global appeal. English, Thai, Korean, Japanese and Chinese are just a few to be found offering feedback. Timing, like good flavoring, is of the essence when creating something that appeals to a wide variety of tastes, as one comment encapsulates. It reads: "I like your videos for two key reasons-always a theater-scene-styled opening, and in five minutes the video is complete, compared to other vloggers who go on for longer. Fight on."
According to Jin, it's easy for high-quality video producers to make a profit on YouTube, which counts over 2 billion monthly users. "And the platform has a system that helps to match suitable advertisers with vloggers' content, which in turn offers them more time to concentrate on creating better videos," Jin says. "However, the priority for vloggers always lies in ensuring the quality of the content and trying to break through the noise in a very populated space."