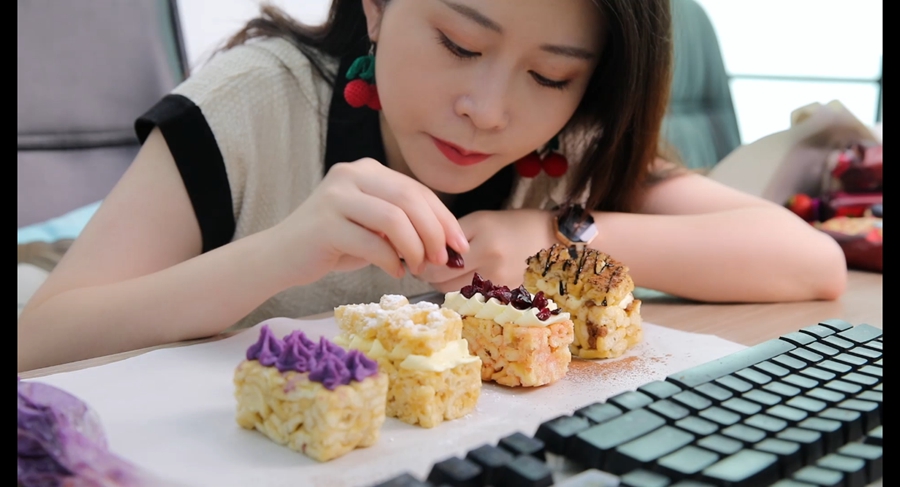 Zhou Xiaohui, better known as Ms Yeah, is the most popular Chinese vlogger on the video platform YouTube.[Photo provided to China Daily]
Online food celebrities cook up a menu of imagination to whet our appetites, Xing Wen reports.
Zhou Xiaohui has cooked up a surefire recipe for success. The ingredients are a dash of hard work, a spoonful of imaginative cooking, a good stock of personality, sauteed and spiced up with popularity.
Zhou, 25, is one of a growing number of Chinese gourmets who have successfully served up a feast of content on YouTube. Based in Chengdu, Sichuan province, Zhou boasts more than 7.3 million online followers, making her the most popular Chinese food blogger.
Best known for her hit series of "office cooking" videos, published under the moniker, Ms Yeah, Zhou's most famous video is one that she released in July 2017, which notched up a total of 100 million views within a week.
In the video, Ms Yeah, a female office worker, carries a cup and seems anxious as she waits in a long line to get a drink from a small soy milk machine stationed in her workplace. Suddenly she gets a flash of inspiration, and goes outside to buy watermelons from a vendor instead.
She then skillfully carves them into enticing offerings of flowers, dragons, and even Angry Birds. She tempts her colleagues, still waiting in line, to gorge on the succulent sculptures. None can resist and, minutes later, a giggling Ms Yeah has the soy-milk machine all to herself.
Versatility, ingenuity and the solving of conundrums are part of her cooking appeal. She can conjure up treats in the most unlikely of settings. Making hotpot with a water dispenser, barbecuing meat with a garment steamer and cooking jianbing guozi, a snack consisting of deep fried dough sticks rolled in a thin pancake, on a computer mainframe case.