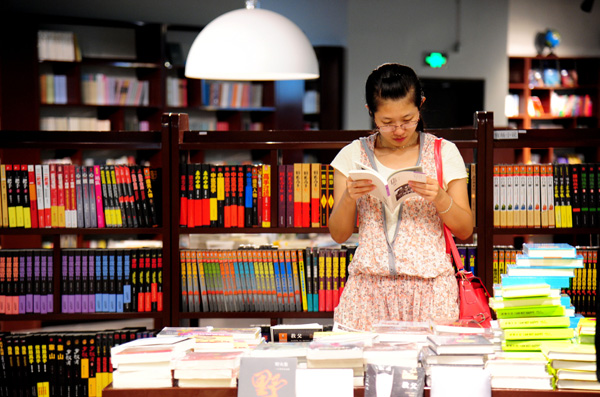 Round-the-clock bookshops are appearing in Chinese cities, like a resistance force under cover of darkness seeking to defend the besieged world of the printed word. [Photo provided to China Daily]
Some booksellers have found a foil to their never-say-sleep internet rivals: the round-the-clock bookshop
What's it to be as you go into that good night? Hours of ungentle carousing in a manner Dylan Thomas would have approved of? Or of something with a little more sobriety: imbibing fine writing that flows from the shelves of a nearby bookshop, something the Welsh poet might not have been averse to either?
In the 20 years since the opening of what are said to have been the first 24-hour bookshops, Eslite Dun Nan in Taipei, around-the-clock bookshops have sprung up in Japan, Malaysia and South Korea, and some big cities in the United States have dipped their toes in the water with 24-hour news/magazine stands.
Now such shops are appearing in Chinese cities, like a resistance force under cover of darkness seeking to defend the besieged world of the printed word. There is nothing quite like such a shop to cheer the hearts of bibliophiles, bathe city areas that might otherwise be dead to the world in glittering light and open up new possibilities for what is being called the night economy.
One retailer, Zhanqiao (loading bridge) Bookstore, in Qingdao, Shandong province, even recently staged its own version of the Hollywood film Night at the Museum, inviting children to stay in the shop overnight. Sitting in tents and under lamps they read to their heart's content before falling asleep, presided over by bookshelves full of books with an ocean theme.
Days before that, the country's first 5G unstaffed smart bookstore opened in Xiong'an New Area, Hebei province. Driven by the advantages of 5G networking, book lovers can enter after having their face or their identity card scanned, and obtain their favorite books any time, because technology has made 24-hour unstaffed service feasible.
In Sanlitun, the heart of Beijing's nightlife hub, at 11 pm on a summer night, among the bustling crowds one store stands out. It is Sanlian Taofen Sanlitun Bookstore, a 24-hour bookstore that has become a landmark since it opened last year.